Red Square

It appears that if you turn the ISIS flag upside down, you will see a bunch of guys in white and black turbans doing inappropriate things to goats, sheep, and each other. Who knew? (Black turbans are invisible against the black background).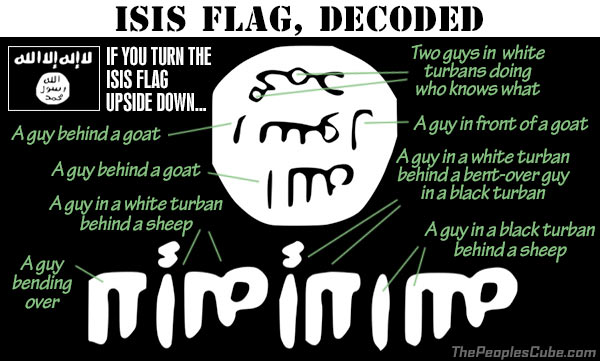 Macker
Ah! I thought it'd be The Muslim National Anthem™:
الجميع بات اللعنة!
بعقب! بعقب! بعقب اللعنة!


Kommissar Uberdave

Afghanistan, where the men are men and the sheep are nervous...


Lev Termen
Why does ISIS wear bed sheets?

Because sheep can hear a zipper a mile away.


Herr Lurkeroffen
Q: Why did God create women?
A: Sheep can't cook.


Kammerat X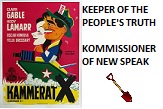 Upon further review we can see that the message we are to receive from the intense visual scrutiny of the flag of ISIS is the following:
O C O C
I M B R
I M O
N I R P I N I MO
This is all code for the location for Lois Lerner's emails and the email that was erased from Hill Billary's personal server among the wedding, yoga and other "personal" emails.
0100 1111 0100 0011 0100 1111 0100 0011
0100 1001 0100 1101 0100 0010 0101 0010
0100 1001 0100 1101 0100 1111
0100 1110 0100 1001 0101 0010 0101 0000 0100 1001 0100 1110 0100 1001 0100 1101 0100 1111
When properly nANDd you find Chappaqua, NY
This of course shows that ISIS has a direct line to the email server of the former Secretary of State and was made aware of the time to attack the embassy in Benghazi.

Kommissar Uberdave

Ancient Desert Storm jokes:
What's the difference between an Iraqi fighter pilot and an American fighter pilot?
The American fighter pilot breaks ground and flies into the wind.
What's the difference between an Iraqi woman and a fish?
One's slimy, has whiskers and stinks and the other's a fish.

Genosse Dummkopf