Evil Smiley


Evil Smiley


Comrade Jenkem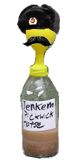 Nothing done in the name of Islam has ANYTHING to do with Islam.

Papa Kalashnikook


Callmelennie
ISLAM HAS ALWAYS BEEN A PART OF AMERICA'S STORY

And so has the 1500 square feet of dirt under my house's foundation. It's been there since the founding of our great nation. It's also been a part of America's story.

Just not a very big part


Komrade Winston Churchillski

Papa Kalashnikook
I still prefer (the below)
What most the world seems to be missing is Muslims are brainwashed cult members .
Ernest Renan
Muslims are the first victims of Islam. Many times I have observed in my travels in the Orient, that fanaticism comes from a small number of dangerous men who maintain the others in the practice of religion by terror. To liberate the Muslim from his religion is the best service that one can render him.

Comrade_Tovarich

Comrades,

Tolerance is inherent in Islam. For example, when a filthy infidel wishes to marry a Muslima, he must accept Islam, after which he will be not only tolerated but cherished! If a Muslim is born a child by an unclean infidel, the child becomes part of dar al Islam and is subsequently tolerated and cherished.

When all becomes Islam, all will be tolerated. Some of our less progressive comrades could learn to incorporate more of such tolerance, when it is proletarian and beneficial to the Party.


Evil Smiley