ThePeoplesComrade

ROME (AP) — Seven scientists and other experts went on trial on manslaughter charges Tuesday for allegedly failing to sufficiently warn residents before a devastating earthquake that killed more than 300 people in central Italy in 2009.
Full Text

Apparatchik Unkulturny

Well, If these Running Dog Lackeys Of The Imperialist Conspiracy Against Peace And Justice ™ continue to refuse to protect The People against the vagaries of "Mother Gaia" - caused, of course, by the Imperialist "Business" War-Criminals Who Dump Their Toxic Poisons Into Every Waterway and Every Aquifer - then they are due whatever korrective measures are necessary - And MORE! A noose from every lamppost!


Krasnodar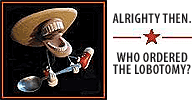 Lamp posts ? Don't forget that this is Italy we're talking about.
There, they use gas stations.

Jíbaro

Komrades, we must be careful that this action does not come back to bite us when all the GLOBAL WAЯMING HOOPLA™ does not materialize.

Imagine the Seychelles, spending billions of dollars in sea walls to prevent rising seas, and 25 years from now realizing that it was all a hoax. If this lawsuit goes forward, 25 years from now the Seychelles will go after OUЯ HIDЭS.

Scientists, like Clergymen, and gods, should be above the law. Though, strictly speaking, only Muslim Clerics are allowed to be above the law in our Gloяious Woяld of Иэxt Tuэsday™.




Krasnodar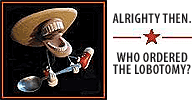 To Comrade Jibaro and all worthy Stalinists ,

Shouldn't Dear Leader and his administration officials be at the top of that


" above the law "

list ? Or is that covered by the umbrella term

" gods "

? ( small "g")

If that be the case, then never mind.

* Note from the peanut gallery......

The government of Italia certainly has come up with a grand way of encouraging it's college students to pursue a carrer ....... curere......... a job.... in seismology.

Fraulein Frankenfeinstein

This is all the fault of global-warming. Do these backward drones not understand dearest Algore has been warning of such tragedies? If anyone is to be tried it should be the Sarah Palin.


Grigori E.R.

Small addition Comrade Judge Fraulein: Sarah Palin and George Bush.


R.O.C.K. in the USSA
Exactly, Comrade Grigori.

And, for at least the foreseeable future, it's MAINLY because, Bush.

It's no coincidence that "Bush" has the same last three letters as "crush", which is what happens in earthquakes when buildings fall on innocent people. Much like when there's a house or forest fire and "Bush lied and people fried".

It's pretty obvious.