TheFineReport.com

America's new moral compass, Jimmy Kimmel, filmed on the street asking women to guess what is in his pants...
Old Clip Resurfaces of Kimmel Having Women Guess What's In His Pants: Maybe 'Put Your Mouth On It'

Vladimir Poutine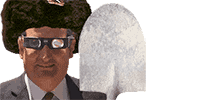 Wait, you're telling me that the ever-holy-and-independent-thinking Jimmy Kimmel also sexually harasses and objectifies women? That he, for instance, made well-endowed women jump on trampolines for his (and his viewers') sexual amusement? That he once hosted a show called the MAN SHOW? Implying that TV should be exclusively for men and non-inclusive of women and agender-neutral apache helicopters?


Evil Smiley