Evil Smiley

Edwards admits to mistress but rejects his child
Senator John Edwards admitted that he lied during his Presidential campaign and did in fact have a mistress, although he denied being the father of her newborn baby. He did not explain what he was doing in a hotel room with her and the baby, and why he fled from the National Enquirer photographers and hid in a bathroom.
Despite the party's best efforts to control this story and the press, it leaked out in the end. Senator Edwards thought the right moment to release it was when war broke out today in Georgia. The Mainstream Media will quickly bury this story and cover this Russian Georgian war, but we must make some effort to appear fair. We managed to hide this story for almost a year now and we were almost successful if it weren't for that subversive Samizdat National Enquirer.
Meanwhile, his other family has locked this woman and child out of their home.
(Pssstt! Kids! Look out the window!)

Commissar_Elliott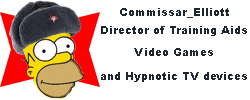 Promiscuity is natural, so it's o.k. if Edwards is doing this kind of thing.


Evil Smiley

The moonbats elected him "Father of The Year!"

Comrade Krotchsky

I think what we need to realize is that greasy, southern trial lawyers are going to cheat on their cancer-stricken wives anyway, so why not just go with it? I mean, who are the rest of us to foist our old, outmoded morality on such people? By the way, the kid is mine, so you can stop accusing Dennis QuaidSenator Edwards of that one...