Chairman Meow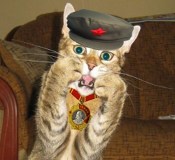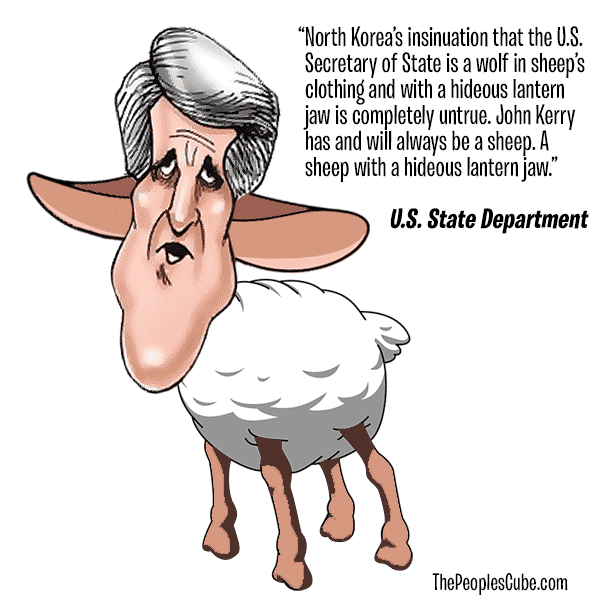 North Korea recently referred to John Kerry as a "wolf donning the mask of a sheep" and that he was a "wolf with a hideous lantern jaw."
The State Department was quick to issue an official response: "The insinuation that the Secretary of State is a wolf in sheep's clothing is completely untrue. John Kerry has been and will always be a sheep. There is not one drop of wolf in him. We apologize to the North Korean government for any mixed messages it may have received that are contrary to President Obama's policy of promoting American weakness."
Foreign leaders from all over the world also issued statements confirming that John Kerry is "all sheep."
And in a historic show of unanimity, all of the member states of the United Nations save North Korea passed a resolution agreeing that John Kerry is only "a sheep with a hideous lantern jaw."

Politburo Wannabe #11-7-2
Let's not forget bunny:

Pamalinsky

This is very funny to me. Ha Ha! (sort of)

Back in the day I had a boyfriend who was a player in the opening band for Jefferson Starship in a performance at Radio City Music Hall.

I got to "hobnob" with the manager of Jefferson Starship and his sycophants backstage. It was truly disgusting. Coke snorting everywhere. I abstained.

I later learned that most guys in the industry at the time referred to him as an asshole. Later it was reported he had grown a beard, at which time they referred to him as a "bearded asshole."

This is how I think of John Kerry…a Botoxed asshole. I wonder sometimes, though not very often because it's too gross, if Kerry is actually capable of taking a simple plebeian dump, what with all the Botox and all. (Just a repugnant passing thought)

My guess is that he has intravenous tubes inserted into his brain from his rectum that lead directly into the bidet he uses as an exit point for his excrement. I mean, it's gotta go somewhere. Right?

God forbid he should be constipated, or worse, suffer from diarrhea. Oh, the humanity!