Genosse Dummkopf

alias:
My Husband for VP, or: Where Am I ?
Jok
??
Biþen
???
Intro:
Mystery item No. 1
After Komrade 'pelipsky got lately
hit
by a beam of LSD, Laika's Space Desk, everything became
(in words of Ukraine-tinged comrade

Foer

)
Illuminated
.
(as Russia!Russia!Russia! holds E pluribus, and
especially the Orange unum, in it's bearlike grip)
And now recent research has
evidence
that Jok Biþen, the coming... ah.. uh... you know.. you know November... , so: Jok Biþen is "followed" by Laika's apparatus. Here an
exclusive
preliminary TPC report.
( ACHTUNG: Strictly confidential! Eyes only!! Bunker-grade stuff!!! )
~
Now, this sudden RRRAAAAA!, it
must
be Laika at work!!! :
But now he finally got a foothold, and started envisioning The Future™ :
And now (with 93,14% confidence) Laika's infrawaves
explicitly
at work, again! :
Results of parallelly competing studies cordially welcome!
Komrades! Don't shy away from publishing
your
insights!
(it's all strictly Kube-intern and protected!)

Kapitan Kangaroo Kourt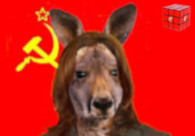 Because I remember when little black children used to rub the blonde hair on my legs and make it stand up in the pool and then Corn Pop told me he could do a back flip and I said that I'll take you behind the porta-potty and beat you up and so he said he'd meet me outside and I went to the maintenance guy who gave me 6ft of chain so that I could put Corn Pop back in chains and he showed me a rusty razor so I said that if Donald Trump was a real leader that razor would be a shiny new.....you know the thing and that's why Donald Trump is not fit to be President. Where is my Staff?


Ivan the Stakhanovets

You sound oppressed. Don't you receive adequate entitlements of redistributed ill-gotten gains from the rich?


jackalopelipsky

Well, that would 'explain' everything, GD. Plus, the
Planet Laika Telex
controls the MSM instructing the general public, too. They all speak just like Joe Biþen because of...Russia, Russia, Russia ...and the eternal powers of Laika.
Besides, if 'pelipsky was dosed with LSD, it was under CIA observation.
In 1991, the Texazistan Public School System
- in control of the minds of all kinderchil'en - diagnosed 'pelipsky with
Slow Progressive Schizophrenia
. Which means, even though 'pelipsky has never actually gone postal ---- constant CIA observation and treatment is, for obvious purposes that preserve the Texazistan Public School System Order - in control of the minds of all kinderchil'en - necessary.
Since 1991, everything 'pelipsky says and does is further evidence of Slow Progressive Schizophrenia diagnosis. Even talking about this at all is thought crime and reason for even m.o.r.e. observation and h.e.l.l.p. for the mythical mind of hare-brained jackalopelipsky.
No wonder when 'pelipsky heard Trumputler's campaign hate speech that made 'pelipsky think without Reason - that if Trumputler had been in charge of Texazistan Public School System: local community branch, 'pelipsky would have completed 30 plus years of service to community paying salary and enjoy the accompanying retirement pension.
See, complete FANTASY World construct controlled by Laika's Russian powers!! Everything 'good' must be broken rice bowled forever - just like Planet Laika Telex directive directs.
Just look what Progressive Schizophrenia has done to Joe Biþen, Joe Biþen's husband, Joe Biþen's staff, and the MSM voice of Reason.
Hard to discern who's been slipped a CIA dose of LSD...and who ain't.
Only Laika knows, and directs accordingly, via Russia Martian Texazistan Wormhole Technology.'pelipsky just answers the phone when Laika calls.
forelock tugfromdementia,
Jackalopelipsky
Russian Asset
#BR 549