Sugar Daddy Bear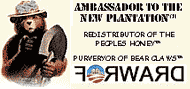 COMRADES,
Show your support for another FOR MORE EARS of our Dear Leader™ (PTUI) this Halloween with these FOR MORE EARS Marx glasses that will send a clear as mud message to your family and friends.

Trick your neighbors this Halloween with a treat that will make an historic statement just like the one that was made in 2008. You'll feel proud to know that the proceeds from these glasses are going to the Chitcago Publik Skool teachers' pension fund — for The Children™.

And you'll feel more equally proud that these glasses are promoting jobs — the gazillion jobs our Dear Leader constantly harps about creating since the beginning of his immaculation. Made in USA that was outsourced to China due to EPA and SEIU regulations.

Anyer Marx


Sugar Daddy Bear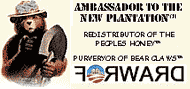 Might I say, comrade Ayner, yooo loook Mah-vel-ous. For The Children™ and FOR MORE EARS!