Nomenklatura-climber

Dear Comrades,
Members of the People's Central Committee of Kalifornia Oblast are preparing to advance the People's will by
taking steps towards outlawing all weapons
, a step that will bring us one step closer towards the Centrally-planned pacification policies of the Party.
This next step in the Five Year Plan for Pacification involves restricting ammunition sales, which we all know will result is keeping weapons useless in the hands of the Bourgeoisie, while still allowing Party-approved social groups, such as Union enforcers and street-crime enterprises, to operate without difficulty through their own Collectives.
The Proletariat have no need for weapons, since the Party provides all necessary personal protection through law enforcement apparatuses and pacification programs in State-directed schools.
The success of these programs is obvious to all, yet crime does remain a problem because Kulaks are obtaining weapons and using them to repress the workers and peasants of America. We must reeducate these Kulaks, but first disarm them through seizure of their weapons and ammunition.
It is imperative that the Party, while it is considering abolishing the outdated oligarchical US Constitution so that our Glorious Leader, Comrade President Barack Barackovich Obama may be elected President-for-Life and thus guarantee the Masses continued peace and prosperity while progressing towards Socialism, also remove outmoded concepts such as universal gun ownership.
We must all agitate for the step-by-step abolition of private property of all kinds. We have already done so by educating the people about the necessity of regulating wealth and seizing it through taxation and forced collectivization. Now comes the next step of regulating possessions and market access to these non-approved items.
We can all look forward to a time when the Party will be able to send Commissars to every home, ensuring that citizens are not hoarding more than their fair share of the people's Wealth.
Forward to social pacification! Down with private property!
Faithfully submitted to the Collective of the People's Cube,
Comrade Nomenklatura-climber
Proletarian Red-noser

Comrade Pistov
A bit behind the curve this day N c

Last night at a Collective celebratory, a Union Comintern spokeswoman proclaimed the Right to slaughter rich people because they will object to having Their wealth "legislated away."

And Comrade Propagandist Krugman is enamored of the new Platinum Coin with a State declared par value of $1,000,000,000,000 even though the Politburo cannot create wealth or establish value.

Comrades: I have a better idea. Let's sell all the Blue cities to Comrade Chairman Putin and let him and his new Soviets bail out the lot. I so look Forward (!) to watching what he would do to the Occupiers and AFSCME members.

A Stoli for your thoughts.


Sugar Daddy Bear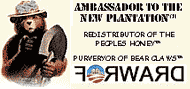 Comrade Nom,

I am amazed that the Politburo of the Peeples Republik Of Caul-ee-fawnya hasn't figured the must dangerous weapon is the progressive human brain. The solution would be mandatory Jiffy-lobos™ for every denizen prior to a full removal.