Komrade Zarkof
Comrades,
This billboard in Colorado shows Progressives the burning Hatred that KKKonservatives have for our Messiah and Dear Leader.
You can read the article about this outrage here.
Fraulein Obamski
Our glorious leader must stop this type of hate speech - where is our Billboard Czar?!

Opiate of the People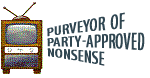 If Bush can be a nazi then Obama can be a jihadi. Seems fair.
Fraulein Obamski
And those conservative infidels keep demanding to see that peski birth certificatki.....