Colonel 7.62

This is intolerable!
According to this article
, the LA Times is preparing an investigative report of the 6000 elementary school teachers in LA, and has ranked them based on performance metrics. Needless to say, our progressive friends in the teacher's union are Outraged ™.
Quote:
United Teachers Los Angeles president A.J. Duffy said the database was 'an irresponsible, offensive intrusion into your professional life that will do nothing to improve student learning.'
In the never ending struggle for Equality ™ and Justice ™ we cannot be disclosing which teachers are more equal than others, because we know that they all average out to a level of equality among the collective whole. We cannot be concerned with individual performance, but rather the collective average.
I propose we send a People's Cube to the LA Teacher's Union, and suggest they adapt this most equal and most progressive of teaching tools immediately. Then the next time some uppity newspaper thinks they still have the right to engage in compelling investigative journalism, all they will learn is that all teaching methods and scores have become absolutely identical and equal.

Fraulein Frankenfeinstein

Ranked them based on performance metrics?! Who of us could pass such qualifying qualification, ranked on any performance?! This is outrageous and must be denounced. This is too much pressure of union educator persons, is it not? Why, it sounds like the reichwinger LA Times is encouraging competition & over exalted performance. Next thing we know, they be pushing capitalism in schools.
Our teachers are so overworked as it is. Here are some, doing extra work to make ends meet to pay for their year long sabbatical and vacation plan.

Groucho Marxist

Nothing to see here. No one looks at newpaper anymore and fewer actually have the ability to read them.


Ivan Betinov

What is WITH the L.A. Times lately? They also published this excrible screed on 20 August:
Quote:
Just a few minor things to catch up on for the weekend now that the Fundraiser-in-Chief has gone on another vacation (Don't worry though. White House chef Sam Kass went along, so the first family need not eat ordinary human food.)

-- The Congressional Budget Office says the 2010 federal deficit will be in excess of $1.3 trillion, as in $1,000,000,000,000+. (BTW, the next level we'll be talking about out of Washington is quadrillion, which has fifteen 0's.)

-- Despite Vice President Joe Biden's April boast that administration stimulus spending would spur the economy to add a half-million jobs a month by now, initial unemployment claims jumped a half-million last week, the worst since last November, as national unemployment remains at 9.5% and the economy sheds 131,000 more jobs.

-- But the economy's going great at the Democratic National Committee, which reports collecting $11.5 million from donors in July on top of the $53.8 million already taken in from various sources this year. The president just devoted three workdays across five states to rake in several more millions for his party.

-- But before leaving for his ninth presidential vacation, 10 days at a....


...secluded estate on Martha's Vineyard, Obama devoted four minutes in the White House driveway to a special statement on the latest disappointing jobs numbers. (Full text, as usual, can be read on the jump, along with a brief reaction from the Republican National Committee chairman.)

No questions allowed because the president didn't want to explain why despite the administration's announced Recovery Summer Program, the jobs numbers have started going backward again after 19 months of promises and $787 billion in alleged stimulation spending. Because, faced with the uncertainty of the economy and the certainty of new taxes after Nov. 2, employers are holding back on hiring.

According to the president, he's been "adamant" with Congress for months now about a new jobs bill to help small businesses. Obama says this really good bill is stalled in the Senate, where so much administration legislation has been crammed through so effectively by Majority Leader Harry Reid.

Reid's been so good at it, in fact, that he's now running for his political life in a reelection campaign back in Nevada where unemployment is 14.3% and Obama's legislation is not so popular.

Reid's up against a conservative Republican. So, that means Harry Reid must be a Democrat, just like Obama, and just like 59% of the Senate's votes.

The very same party that has controlled both houses of Congress since the 2006 election and really controlled them both since the 2008 hopey-changey balloting.

So, facing the growing grim possibility of a GOP surge on Nov. 2, is this maybe the start of buddy-bickering within the Democratic huddle? Vulnerable people pointing the proverbial political finger of blame at someone else? That's ridiculous, of course.

Red Rooster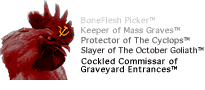 Yes Comrades,
I DENOUNCE THE LA LA TIMES
!!! They ALSO recently published this article:
Quote:
Ray Bradbury hates big government: 'Our country is in need of a revolution'



Ray Bradbury is mad at President Obama, but it's not about the economy, the war or the plan to a construct a mosque near Ground Zero in New York City.

"He should be announcing that we should go back to the moon," says the iconic author, whose 90th birthday on Aug. 22 will be marked in Los Angeles with more than week's worth of Bradbury film and TV screenings, tributes and other events. "We should never have left there. We should go to the moon and prepare a base to fire a rocket off to Mars and then go to Mars and colonize Mars. Then when we do that, we will live forever."

The man who wrote "Fahrenheit 451," "Something Wicked This Way Comes," "The Martian Chronicles," "Dandelion Wine"and "The Illustrated Man" has been called one of America's great dreamers, but his imagination takes him to some dark places when it comes to contemporary politics. "I think our country is in need of a revolution."

"There is too much government today. We've got to remember the government should be by the people, of the people and for the people."

The native of Waukegan, Ill., has never been shy about expressing himself -- he described President Clinton with a word that rhymes with "knithead" back in 2001-- nor is he timid about correcting people when it comes to his own perceived legacy. Bradbury chafes, for instance, at the description of his work as science fiction -- in the past he has pointed out that, to his mind, "Fahrenheit 451"is the only sci-fi book in his vast body of work -- and despite his passion for more national space projects, he is not technology obsessive by any means.

"We have too many cellphones. We've got too many Internets. We have got to get rid of those machines. We have too many machines now."

Bradbury wrote darkly about bookburning in "Fahrenheit 451," but he sounds ready to use a Kindle for kindling. "I was approached three times during the last year by Internet companies wanting to put my books" on an electronic reading device, he said. "I said to Yahoo, 'Prick up your ears and go to hell.' "

Source: http://latimesblogs.latimes.com/herocomplex/2010/08/ray-bradbury-is-sick-of-big-government-our-country-is-in-need-of-a-revolution-.html

Just disgusting!

Dr Progoyavich


Wow, you know progressives are in trouble when the uber liberal LA Times reams fellow lefties a new (cough). Interesting posts.

Boris Badanoff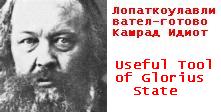 Fraulein Frankenfeinstein

Groucho Marxist
Nothing to see here. No one looks at newpaper anymore and fewer actually have the ability to read them.
thar es no need fer reed'n when we
gtos
gots dem good union techrs telln us wha ta thank. PRAZ OBAMO!