St. Konstantine

Red Square
Michelle Malkin in New York Post
But a couple of random catcallers do not a mob make. And there's an overflowing abundance of electoral rage on the left that won't make it onto your newspaper's front page.
And look how
McCain,
and even
his daughter
are now treated by the kind folks over at hotair.com
These people seem to lean so far to the right, that they are now bumping shoulders with the same raving moonbats in NYC. Because when you read the comments on both of these pages, most of them appear to be on the same page as these people posted in the video up top. In communist Russia, you are not innocent until proven guilty - you are assumed guilty if you don't speak up, and even if you do - they accuse you of lying because any challenge to
their
view of the damned must be false, because they have already made up their minds as to the guilty.
Nice little mob they've got over there. I pray for us all.

Father Prog Theocritus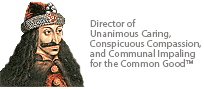 My brother said that, owing to differences in politics, he wouldn't vote for McCain. I asked, "Would you rather sulk in ideological purity and out of power?"


Red Square

Now that John McCain is dead after having spent the last months of his life fighting and undermining the Republican president, the Left showers him with praise. But this video shows what they really think.

You're only good as long as you don't oppose their progressive supremacy.