ThePeoplesComrade

We know things are tough out there after the failed policies of the Republicans. You are not forgotten. We feel your pain but we can not fix things in a day (or even two days). Our new publication, "Obama Utopian News" is filled with helpful hints in addition to those our President has already put forward into the public discussion. Tune ups, air in your tires and civil talk have brought us a long way but now it is time for much more because things are worse than Bush admitted when he left office.
Read our new "wiser living" series. It is a guide to living on less and loving it. We tell you how to
*save 50 percent on dog food
*recycle those tampons as draft stoppers
*raise chickens in you car the easy way
*18 ways to use mosquitoes
*a new recipe for Che's liberation chili
*how to redistribute you neighbor's garden
Comrades, you are not alone. Remember, it's a collective.

darski

I was so pleased to receive this recent issue of OUN. I have attempted to implement wiser living suggestions and so I am requesting a new billet on the beet farm. I should wish to move closer to the river.

I understand that certain riparian life forms (aka river rats) make excellent additions to one's healthy eating lifestyles. Of course I would accept the risks that the RLF's have been known to bite back but I believe that dodging my lunch will only add to my fitness levels and so the Kollective will have a healthier worker either way.

Thank you for considering this most equal request,
Darski


KOOK

--KOOK

Krasnodar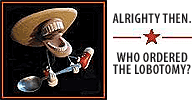 Darski,
Have you checked out that quaint little concrete
pillbox
.....dacha down by the catfish hole ? Admittedly, it could use a little TLC...... the last occupants were soldiers of the Red Army back in '44.

Shovel 4 U
Here's to our glorious future, Comrades!



Apparatchik Unkulturny

Our collective can only
pray
hope
to live in the
palaces
excellent politically correct dwellings shown above! (But until such time at
Commissar Barack
provides such a facility for us, the daily
beet vodka
ration has been
doubled
!)

R.O.C.K. in the USSA

Comrade Darski, I believe that this most equal residence is going to be available on June 1, if you can wait that long.

Sgt. NeoTroll

A-Ten-Hut!
Fall in line maggots.
As you may or may not know I am a MARINE, I adapt, I improvise.
Some of my innovations ...
My compound. As you can see this is a high rise structure.
This is the observation tower for the compound.
This is my mailbox.
My Porta-potty
Lawn maintenance at the compound.
Oorah!

ThePeoplesComrade

Comrade Sgt. NeoTroll, good news. The Zoning Commissar has just approved your application for multi-dwelling use.