Pamalinsky

As you know comrades, and as VP Biden stated today, NOTHING helped us know the REAL issues about gay marriage and relationships with others more than the TV sitcom, "Will and Grace!"

This prompted the CFC twisted lightbulb to go off in my head!

It must follow then, according to "Dances with Wolves," if you take the lead female character into account: Her name was, are you ready?

Stands with Fist!

Yeah, Lizzy's a Cherokee alright. The hit movie, "Dances with Wolves," says so!

Have fun Comrades! I know you'll make short work of this one! XXXX!!!!

Bwaaahaaaahaaa!


R.O.C.K. in the USSA

While I'm sure that fisting is all about Elizabeth Warren - and vice versa - this being a Family Friendly™ progressive site, my Photoshop pen (or Intuos5, whichever comes first) rests.


Comrade Starsi

Comrade Warren's indigenous north american native people of color name is..Lying Cow


Pamalinsky

<off>

Dear R.O.C.K.

The "Stands With Fist" name has NOTHING AT ALL to do with sex. But has EVERYTHING to do with the Commie symbol for "Power to the People!" Otherwise, I would not have posted it.

I meant to show the absurdity of how the entertainment industry now defines things for some of us. To the detriment of all!

You can look everywhere and see this symbol (the upthrust fist). It is a lie! They don't want power for the people at all. They want power OVER the people.

So, when I posted this, I can guarantee you, it is most Family Friendly™!!!!!!!!!!!!!!!

AND in support of my country! And families everywhere!Any questions? Just ask me.


R.O.C.K. in the USSA

Oh dear.


Pamalinsky

R.O.C.K. in the USSA
Oh dear.
My post is also in support of you, my dear R.O.C.K.

ThePeoplesComrade

It's sad but this is the best fist she can do. Some progressives are more equal than others.

Pamalinsky

Perfectly appropriate for her, Peoples Comrade. And, thanks for your input!


Thrust a wimpy fist to Harvard! It will work! In this case, 1/32 Cherokee=Wimpy Fist!


Evidently, Harvard just loves wimpy fists, or, any fists at all!


Comrade Loaf
Bless her heart!


General Confusion

Recent research into native idioms reveals her name is "Shoveling Buffalo Meadow Muffins".

Therefore she must always be "shovel ready".


Pamalinsky

R.O.C.K. in the USSA
Oh dear.
It has occurred to me, after posting my rant, that I might have totally misinterpreted your post! Arrgh! (I hate it when that happens!) Are my cheeks red!
Well, at least I have CMA and can have it both ways! That is, after all, the Prog Way™.Cheers to you, R.O.C.K.!

R.O.C.K. in the USSA

Thanks for the cheers, Comrade Pamalinsky, but you may rest assured that you knew of what I spoke and got my drift, so to speak, if you will, as it were. Of course, myself, I personally think that the act in question has a lot more to do with idiocy than sex, but that's just me :)


Father Prog Theocritus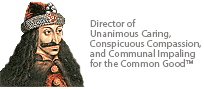 Comrades, comrades, there must not be a rift. At least in public. Now when we're planning to see what comrade's neck to step on as we climb, that's okay. But we must present a united front to the RethugliKKKans.

----Damn! Bruno! Bruno!!! Look at that! Lice! There are lice in this house. There are lice on you. What did you do? How many times have I told you never, ever to give a pedicure to our Many Titted Empress. Don't you remember how many times we had to use Rid and Barq the last time she was here? And the pesticide bills. Finally only steaming naphtha would do.

Sorry. One of the hazards of the hospitality business to progs. And you wouldn't believe the pilferage. One time when Nanski came in, there wasn't a single towel left at the Rancho.

Oh. Elizabeth Warren. Screeching Crow.

Lies with Dogs

Lies Like Dog

Tumble-bug

Scares Wolves

Raging Bitch

Bites Heads off Rattlesnakes