Red Menace

Dear Leader (pbuh) after inventing "Peoples' Magic Eyes" searches for RethugliKKKan reich wing operatives.
"I can see Next Tuesday ™ from my back yard!"

Ivan the Stakhanovets

"Guys! Hey guys! Second floor-third window from the left, with the "Hello Kitty" curtains, that Sandra chick from the law school is changing partners again..."


Comrade Putout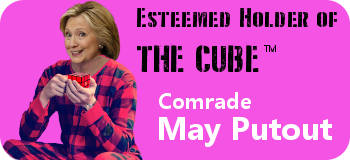 Opiate of the People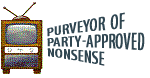 Dear Leader can see Alaska from Kim Jong Il's house:



Fourier's Anti-Manatee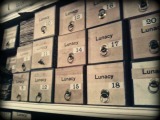 A note from Red Square, People's Director

Dear Comrade Manatee: I rewrote your post, created an illustration, and turned it into the Current Truth editorial. The Party looks kindly on your propaganda efforts.


_______________________________
Standing on the roof of the White House and squinting through time-bending binoculars recently recovered at Area 51, US President Barack Obama reeled off an unexpectedly frank, contempt-laden indictment of his second term.
Obama became the first human to test the device named "Time-Noculars," which is capable of showing reality four years ahead of time - and he wasn't pleased with what he saw.
The racially divided remnant of the Obama's second term was, in Obama's eyes, nothing but a nation which cannot be "productive", "doesn't work", and even its vaunted Chevy Volt exports were hardly state of the art.
"It is like you are in a time warp," Obama said Sunday, after he observed police barricades in the demilitarized buffer zone that has split Washington and the rest of the nation since the Great Race Riots of 2012 that helped propel him into his second term in office. "There are certain things that just don't work and what we are doing doesn't work."
"It is like you are looking into a country that has missed 50 years of racial progress," Obama marveled later, after visiting a clean, heated presidential bathroom that still had running water and - a gift from the recent past - working plumbing.
"If a country can't feed or defend itself effectively, if it can't make anything of any use to anybody, if it has no exports other than cheap, unskilled labor looking for work in Mexico, if it can't rein in corruption in the highest offices, then you'd think you'd want to try something different," Obama said in an uncharacteristically honest public statement.
According to the DOD official in charge of the "Time-Noculars," the President's unusual behavior can be explained by the "truth serum" effect of time-bending. "Being able to see own future sends strong signals to one's brain, zapping and incapacitating areas involved in lying, demagogy, and political grand-standing," the DOD official said.

Fourier's Anti-Manatee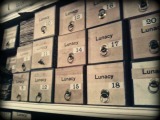 Many thanks Red Square for the Communist Spirit Incentives™!
But may I ask one thing? Why do give out medals made out of a metal which Lenin said is only suitable for making toilets?