Red Square

Commissar Pup has forwarded me this email sent to him by Bill, "the First Laddie" of Her Majesty Hillary. While this is a genius sweepstakes scheme ("the campaign will choose one supporter to have lunch with Hillary and me -- along with a guest -- maybe I'll drop in, maybe I won't"), what if something happens between Pup and Hillary after lunch (a spark of tender emotion, the need to resolve the tension), especially if Bill doesn't drop in? For a bigger contribution, why not?
~
We could rewrite the text for Hillary, making an email that would give her and Bill much, much more campaign ca$h - "In Bed With Hillary... And Bill!"
Bill, acting like a pimp, will write, "I hear you might be having sex with Hillary -- do you mind if I drop in?" And so on... (Meow, shut up!)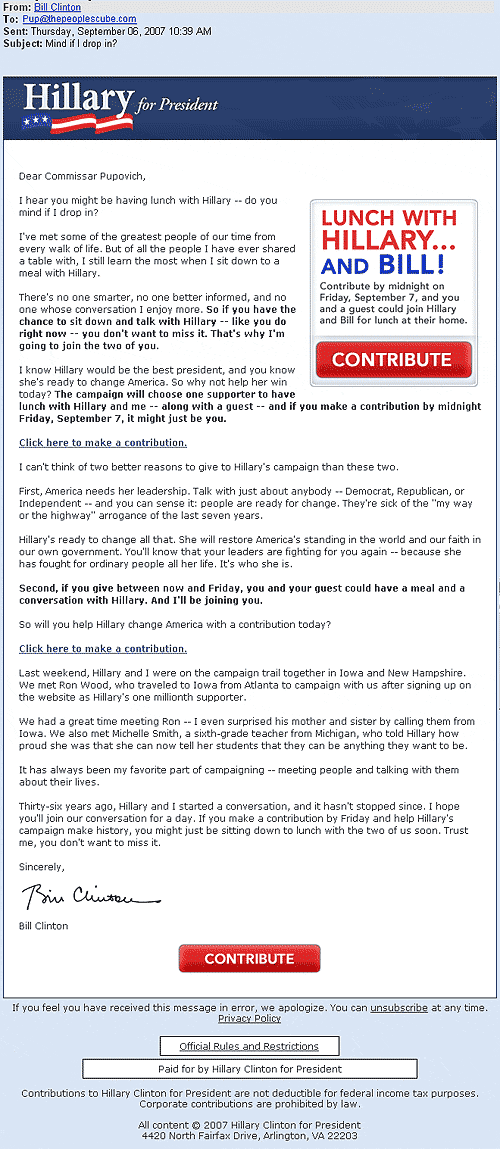 FULL TEXT IN CASE SOMEONE WANTS TO EDIT IT:
============================================
I hear you might be having lunch with Hillary -- do you mind if I drop in?
I've met some of the greatest people of our time from every walk of life. But of all the people I have ever shared a table with, I still learn the most when I sit down to a meal with Hillary.
There's no one smarter, no one better informed, and no one whose conversation I enjoy more. So if you have the chance to sit down and talk with Hillary -- like you do right now -- you don't want to miss it. That's why I'm going to join the two of you.
I know Hillary would be the best president, and you know she's ready to change America. So why not help her win today? The campaign will choose one supporter to have lunch with Hillary and me -- along with a guest -- and if you make a contribution by midnight Friday, September 7, it might just be you.
Click here to make a contribution.
I can't think of two better reasons to give to Hillary's campaign than these two.
First, America needs her leadership. Talk with just about anybody -- Democrat, Republican, or Independent -- and you can sense it: people are ready for change. They're sick of the "my way or the highway" arrogance of the last seven years.
Hillary's ready to change all that. She will restore America's standing in the world and our faith in our own government. You'll know that your leaders are fighting for you again -- because she has fought for ordinary people all her life. It's who she is.
Second, if you give between now and Friday, you and your guest could have a meal and a conversation with Hillary. And I'll be joining you.
So will you help Hillary change America with a contribution today?
Click here to make a contribution.
Last weekend, Hillary and I were on the campaign trail together in Iowa and New Hampshire. We met Ron Wood, who traveled to Iowa from Atlanta to campaign with us after signing up on the website as Hillary's one millionth supporter.
We had a great time meeting Ron -- I even surprised his mother and sister by calling them from Iowa. We also met Michelle Smith, a sixth-grade teacher from Michigan, who told Hillary how proud she was that she can now tell her students that they can be anything they want to be.
It has always been my favorite part of campaigning -- meeting people and talking with them about their lives.
Thirty-six years ago, Hillary and I started a conversation, and it hasn't stopped since. I hope you'll join our conversation for a day. If you make a contribution by Friday and help Hillary's campaign make history, you might just be sitting down to lunch with the two of us soon. Trust me, you don't want to miss it.
Sincerely,
Bill Clinton
==============================================
If you feel you have received this message in error, we apologize. You can unsubscribe at any time.
Privacy Policy
Official Rules and Restrictions
Paid for by Hillary Clinton for President
Contributions to Hillary Clinton for President are not deductible for federal income tax purposes. Corporate contributions are prohibited by law.
All content © 2007 Hillary Clinton for President
4420 North Fairfax Drive, Arlington, VA 22203

Premier Betty

Interesting... I must scam some money from those hippies "Save the Whales" foundation to contribute to this. It's much more important than big smelly fish (I know they're mammals so please don't bug me about it).


Red Square

Tatiana Pahlen asked me to post this here...

Father Prog Theocritus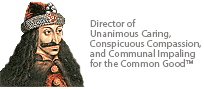 Will they serve barbecued Christian babies? Will it be served on crockery stolen from the George Washington? Will Bill show up in a bathrobe? Will Hillary be pretty in pink or be in a stained blue dress?

Will we see her ankles and therefore lunch will be off along with our digestion?


Marshal Pupovich

I can only hope and pray my generous offer will get me invited! Oh the joy that would be, to have lunch will Bill and Hillary. I understand Bill will also be inviting his guests for a drink and a cigar afterwards!
BTW, speaking of Hillary.... someone sent this to me... but you have to watch till the end.
http://hytaipan.home.comcast.net/media/serenity2.html

Father Prog Theocritus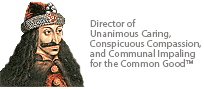 I can only hope to golf with him and Vernon Jordan. Recall the time he inserted himself into a country club and went out alone, returning after dark on an unlit course, with par golf? Sheer genius, worthy of Dear Leader.


Marshal Pupovich

Oh no! I had not heard that wonderful golf story. Now I do recall the sadness he showed at the memorial for Vernon Jordan, when the grief was so much he broke out in an insane laughter.


Comrade TankoGrad

It is nice to know I am not the only one to remember the incidents on the USS George Washington. Do not forget the monogrammed towels Clinton's staff 'liberated' or the cruiser he had stationed off the Normandy Coast for days.


Marshal Pupovich

Ah, he left us with such memories.... the stone cross made on the beaches of Normandy where no other stones could be found, the "joint" Christmas tree, and who can forget that lovely bonfire down in Waco?


Father Prog Theocritus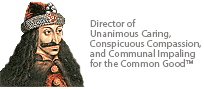 Comrades, I blush to say though that Comrade Clinton and Stephie-poo, the Breck Girl Number One, may not be of the first water. After liberating things from the George Washington, the captain sent them a bill for only $1046 dollars. The figure sticks in my mind. It is paltry.

If they'd taken a single jet, just think of that. Or what about some black box? Surely there's something to sell to the Motherland.

I can only put it down to sea sickness it I do not want to lose faith in Comrade Clinton, Our Many Titted Empress, et al.