bringsdogtowork
First he bans smoking, salt and trans-fats. Now the Ego that Ate New York is banning Slurpees and Super Big Gulps.
Want a Venti sized cappuccino at Starbucks? Sorry, the mayor ordered you a Grande. "We're not taking away anyone's rights to do things," this out-of-touch big government billionnaire bully absurdly claimed. "We're simply forcing you to understand that you have to make the conscious decision to go from one cup to another cup." A great dictator always assures you that you are still free.

Opiate of the People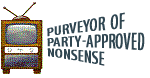 Comrade, Nanny Bloomers is absolutely correct. The only things a good citizen should do unconsciously is donate to our chosen candidates and vote in the manner instructed. Everything else they can do as they wish. Well, they need to send their kidniks to the schools we choose for them.... they also need to watch only state-approved media outlets, for the good of their mental health, you understand.... they need to exercise more.... they shouldn't drive too much (too much... cough, cough... pollution is created) and drive eco-friendly cars like the government-approved Chevy Volt which only creates pollution when it bursts into flames.... Well, they are free to have abortions at will, what the hell else do they want?


John Lenin
Next on Nanny Bloomberg's hit list: making faces. As he explained at a press conference, "Because if you do it too much, your face will freeze that way."

El Presidente


bringsdogtowork
Another battle in the Left's War on Food. We saw it coming and prepared a Coke stockpile next to our salt, trans fats & cigars in the basement!!!