TheFineReport.com


SovietPineCone

I see him. He is drinking out of my birdbath.


SovietPineCone

Sorry false alarm. It was just neighbor of mine hitting PCP too much.


Jíbaro

How dare you blaspheme the name of my god, Mitt!!!!!
Although the Reaganesque Sarah Palin has more gonads than Mitt, I'll vote for him to get rid of that Lenin Spawn: Barry O.

SovietPineCone

LDS ON... hmm...
This might be very useful alternate identity in near future comrade Jibaro :)


Vladimir_Scratchanitch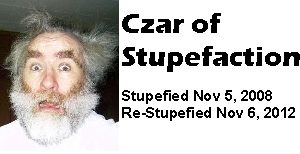 Once again, holding my nose while voting for the least worst.

Actually no problem at all, because Obama is without a doubt the worst in American history. Democrats ARE the communist party. Gawd, what a snotty, lying bunch of sick in the head perverts they are.

I highly doubt Romney is going to be another Reagan, but maybe he won't give America to our enemies and pay them to take it.