Red Square

Unless you live in an underground bunker located in Mud Butte, SD, you have probably heard that Hollywood has just come out with a new historical, fact-based slasher documentary,
Abraham Lincoln: Vampire Hunter
, directed by
Timur Bekmambetov
of Kazakhstan.
The film explores the little-known, esoteric part of the famous slain president's life: his axe-wielding, kung-fu-fighting, vampire-hunting adventures. Hollywood history experts believe that this supernatural talent may have been responsible for Lincoln's declaration of war on the Southern states, which he successfully won with a smooth roundhouse kick. Once this is known, it doesn't take much intelligence to deduce that Lincoln's assassination was merely an act of paranormal revenge by vampires.
All of the above, in the eyes of critics and media experts, will make Abraham Lincoln: Vampire Hunter an instant classic and an educational tool for K-12 social studies programs.
According to our inside source (Sister Massively Opiated), a sequel is already in the works titled, Ibrahim Obama: Vampire Helper (president by day, community organizer by night). See poster below.

R.O.C.K. in the USSA
Just publicity for the movie, I know, but YUMMERZ it's good!
And approved by FLATUS herself.

El Presidente


mi
I don't mind vampires. With them I buy civilization.


Red Rooster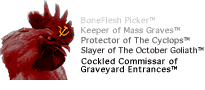 Here we go again:
http://en.wikipedia.org/wiki/Let_the_Right_One_In_(film)
I already told you comrades, vampires don't eat zombies and right now we are having a Zombie Apocalypse! This will consume all of the RePUGlikan brains we need to re-elect Dear Leader Obama.
This Timur Bekmambetov is a dense Subversive or a Riecht Wing plant.
Anybody?
Huh? Huh?
That's what thought!

Great Stalin's Ghost

Say, isn't that Jimmy Carter as the Jew-Eating Rabbit?


Sister Massively Opiated

If you think about it, it does explain a great deal... Obamacare (who'd control the blood supply! Huh? HUH! And it's a great way to cover up 'disappearances, and I should know! I bet he's already turned a whole nest of coroners... the Los Angeles coroner has been a vampire for years!)... Freddie Mac/Fannie May... bailing out Goldman Sachs... why the Secret Service had to invite him into the White House before he could cross the threshold... Why he left Hawaii (the sun... it BURNS!!!)... basically sucking the life's blood out of the country and much of the rest of the world (Kanadistan is safe, but just look at Europe, Asia, and the Middle East... I think they've already fallen)... Those Secret Service agents in Cartagena who supposedly were so drunk they couldn't have sex with the mob of prostitutes they brought back to the hotel weren't actually drunk - they had low blood pressure from "getting him dinner"... and he bogarted all the prostitutes for a midnight snack (okay.... maybe that's a stretch... but maybe not... he does have a history of bogarting)...
But you've all seen Queen of the Damned... and he has been referred to as King Obama in this very blog! And clearly...
Michelle Obama bears an eerily similar resemblance to... well.... The Queen of the Damned...
And Michelle Obama is a satanist... I read it on the interweb, so it must be true! See:
http://www.jesus-is-savior.com/Wolves/m ... _obama.htm
If Dubya and Laura can be satanists....
... along with Mahmoud Ahmadinejad...
... then who knows what Barack Obama... King of America (AKA: The Damned) could be....
... but I really doubt he's a Texas Longhorn fan... or a Texas Longhorn, for that matter....
(notice the uncannily thin face and long chin)
But whatever he is (and he may already be a vampire himself, and not just a helper, and this picture is either old or doctored), clearly his family is, cause here's a picture of him playing with his kids and not some imaginary friend or comrade, as
some
would have you believe....
... you can tell... it's simple physics... he sitting IN FRONT of the see-saw handle and not at the end, because there's no way his kids together could possibly balance out with him let alone weigh more so they'd be way up in the air... It's just like that footage of the so-called astronauts on the moon where the shadows are all wrong cause it's shot in a a studio... But you can't fool gravity... currently.... and that's the truth!
He's constantly quoting Lincoln to lull you all into a false sense of safety from vampires... And he did supposedly take his Oath of Office on Lincoln's Bible (or so we thought... no doubt if it was a real Bible, he would have burst into flames)... an obvious kick in the teeth to such a great emancipationist AND True Vampire Hunter!... Abraham Lincoln... I could go on and on and on, but really, what's the point? You're screwed... And Twilight was just a big conspiracy to lull you all into a false sense of security about vampires by turning them into something benign and even a force for good... Obama quotes Lincoln so much, that it's become Double Speak, or Newspeak... and vampires can create Orwellian "memory holes"... so don't forget what Newspeak meant... Love was Hate, Peace was War, and Plenty became Scarcity (next time you're hungry and you think, "I'd like a steak," ask yourself if you'd be better off with a stake)... When Obama, the Vampire Helper, quotes Honest Abe, "I am not bound to win, but I am bound to be true," is he talking about truth, or is it Obamaspeak?...
Oops... I think my prog slipped while I wasn't watching...

Ivan Betinov

Given that story line, this Timur guy seems pretty lame....