Father Prog Theocritus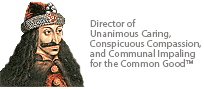 Of course, Red; anything for my friends, and I count you first among them.

...Lupe! Lupe! Get that lazy bum Michael Gartner in here! If he can blow up a GM pickup he can do a Lamborghini! Lupe! Lupe!

Red, come anytime you want, and bring all your nicest things that you want to be surrounded with. I promise that they will be very safe and cherished.


Premier Betty

Quote:
Michael Gartner in here! If he can blow up a GM pickup he can do a Lamborghini!

Why would you want to blow up a Lamborghini???  It would be a complete waste of several hundred thousand $$$!  Why don't you just give the Lamborghini to me, and blow up a fake replica made out of a Volkswagen chassis and fake fabricated parts?

Father Prog Theocritus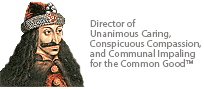 Bait, Betty, bait. You don't think that you could entire Teddy Kennedy with Venezuelan Scotch, do you? I happen to know that Red is very knowledgeable about these things, having personally closed down exotic-car dealerships in four major cities, and so I could not hope to fool him with a replica.

After all, Red is not as stupid as the average Democratic voter who will vote for either a bitch on two legs or a Disney Animatronic named Al. The loss of the Lamborghini will be worth it.


Premier Betty

Quote:
The loss of the Lamborghini will be worth it.

NO IT WON'T!!! I wanna save the Lamborghini!  If you're going to destroy an exotic car, just do it to some POS Mercedes, or BMW (Bowel Movement Wagon). And if it has to be a high performance car, use a Porsche 911.

Father Prog Theocritus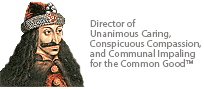 All right, Betty, I'll come clean. It's from the school of Lamborghini. You know, like from the school of Rembrandt. His apprentices painted a lot of those things. And you don't think that Alexandre Dumas wrote all those novels, do you? No, he farmed them out and put in a little color. And it is said that Mahler's wife did the orchestration for him, that Dick Francis' wife wrote his novels. And I'm still trying to figure out whose hand is up the Gorobot's ass.

This is not in fact a Lamborghini any more than that $15 hand bag you buy from Nacho on the street corner is a Prada. This is made by Wo Fat Industries, owned by the People's Army of the Republic of China in the town of Who Flung Dung.

I figure I can get by with it because although the car is fake, the booz beforehand will not be.

Well, like a true Commie it will be a mockery of truth in advertising but it will have a good kick.

Did you know that lead improves the taste of rot-gut? And it's cheaper too. You drink until you pass out but it so suppresses the nervous system that it seems that you're not breathing. That's why the Victorians buried people who seemed to be dead after a drunk, but tied a string on the body's finger, running through a hole up through the coffin and the ground, looped over a twig, and tied to a bell. A watcher at night would be woken by the sound of the body coming back to life, hence the term wake.

Befores embalming, 15% of the coffins had fingernail marks on the inside. I've always taken that as a sign that we need to start on the Marxism at least by the age of 4. Let's embalm them just after they learn to walk. No scratching at the coffin then. They're OURS.

Don't worry about the Lamborghini. It's made with the workers who left for China after the Yugo factory closed.


RedtheProgressiveFox

Theocritus? Why is there a device with a blinking light under the car, and behind the panels, why is there Chinese writings?


Premier Betty

It's an ancient curse damning whoever drives good in it to be infested with crabs.


RedtheProgressiveFox

Which reminds me Betty, would you like to take a ride with me?


Premier Betty

A ride to where?  What kind of car?  Can I drive?  Are there any blunt instruments in that car that you wish to use in the process of disposing me and taking my position of Premier?


RedtheProgressiveFox

Betty, Betty, Betty,  I would never do such a thing. Hey, that reminds me!  I need to go get my gum again.  

Besides, I am not the one that you need to look out for.  Theocritus is just a commissar too, maybe he would want your position?  I tell you what, I will let you drive the car he got me.  Here are the keys.  I have yet to start it so you will be the first.  Now, just let me step back here, far away, and you can be the first to start this wonderful car.


Premier Betty

Hmmm....  Keys, car, list of enemies growing, everyone baking far, far away....  Yep, everything's perfectly safe!
<Sound of engine starting>
YAHOO!!  See ya lata sucka's!
*VROOOMMM!!*
Whee!!!
*BOOM!!*

RedtheProgressiveFox

Good, now that is out of the way.  Where do I go to get my promotion?  I WANT BETTYS JOB!  You know, its so sad,  I never got the chance to tell him that from the start I got that he was a he and not a she.  Oh well, Theocritus!  I didn't put that bomb in there, ITS YOUR FALT!  MURDER! MURDER!  SOMEBODY CALL THE GUARDS!  You know, that was actully great professional work.  Who did you get to do that?  A peace-loving freedom fighter from Iraq?


Father Prog Theocritus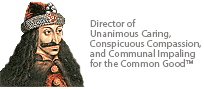 Ah, back. Sorry had to go to Bhopal to replenish my chemical supplies. Such a trouble, you know, digging through those mounds of corpses just to get that new formulation for C4. And the stench! Reminds me of the time that I opened the wrong door in Our Many Titted Empress's apartment, but I should have known from the stuff oozing out from under the door and the fact that just a few minutes before that Rosie had staggered out, retching, white-faced, and ran, blind, screaming from the room saying, "My God!  It's loose in the world! It's loose on the world! Call the Vatican? Where's the Ark of the Covenant?"

Actually, folks, Betty is here with me at Rancho de Rio Grande. And no, don't think that I've corrupted him; we merely decided that it would be good to go undercover for a while to get out of the spotlight. Meow, he kept calling me in the middle of the night and wondering. I first thought it was drunk calling, but decided that it was not, and you really were after him.

And so I convinced him to come here. After all, it's not every day that a mere Commissar entertains a Premier. And it's not every day that a mere Commissar leaves and a Premier, newly minted, remains.

Meow, your suite awaits. Laurie David's Gulfstream is empty now for she and Larry and fighting over it con brio and I happen to have slept with the pilot, so he'll take you where you want. Just hop on board. The refreshements are wonderful, and you'll love the booze.

...Lupe! Lupe! Have we gotten in the chloral hydrate yet? Lupe!...