Opiate of the People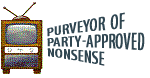 NASA, in accordance with its prime directive of outreach to underserved and oppressed peoples throughout the universe, has proudly announced the discovery of a community of under-represented beings on the planet Mercury. Thru a pictoral signal sent via NASA's Messenger voter registration drive, the beings made known their desire to exercise their right to vote in the forthcoming November election:
Expert scientists immediately hailed the find and speculated that the Mercury Mickey Mouses are related to the Wisconsin Mickey Mouses who registered and voted in such large numbers in the recent recall election there, perhaps sharing a common ancestor with them. Other experts stated they expect NASA to soon discover a community of Adolf Hitler voters who seem to exist in tandem with the Mickey Mouses.
Party leaders unanimously praised the discovery as a victory for democracy. People's legislative leaders have already started drawing up plans to permit Mercury Mickeys to register and vote in November without need for photo ID, noting that it would be an impossible handicap for them to obtain such ID being their planet is on avergae 48 million miles from earth. "Requiring them to obtain ID can be nothing other than vote suppression!" one very angry activist claimed.
President Obama used the opportunity to seize the initiative from Earth-centric planetist opponent Mitt Romney by announcing that amnesty and work permits would be granted to undocumented Mercury Mickeys under 30 million years of age who say they entered earth's atmosphere before 2007. The fact that government officials lack a reliable way to verify a Mercury Mickey's age or when it came here is a good reason for them not to bother trying. The president denied the move was political, saying it was simply the right thing to do.
Critics who claimed to be experts in science questioned the notion that sentient beings could exist on Mercury, a planet whose temperature can get up to 700 K on the side facing the sun. They also suggested that the picture received by NASA was not the product of intelligent beings at all, but merely an anomaly resulting from the many meteor strikes the planet endures. While agreeing that such a conclusion is not necessarily racist, we note that by some strange coincidence these "experts" are also more likely than most to be climate change deniers on the payroll of Big Oil who want to prevent poor people from getting health insurance. Representatives of the public at large chosen randomly to be interviewed for this article wholeheartedly agree.
Forward!

R.O.C.K. in the USSA

It's about time we stopped the hate and discrimination held for so long against these peaceful Mickeymousians - after all, they do the jobs that Americans don't want to do (messy asteroid cleanup, solar flare absorption, etc.). There is simply no truth to the Rethugglikkkan myth that, once granted amnesty, these fellow solar systemite beings would ever take jobs that would increase native earth beings' unemployment rate.


Saul Alinsky

R.O.C.K. in the USSA
It's about time we stopped the hate and discrimination held for so long against these peaceful Mickeymousians - ...
Glorious Comrades, Famous quote comes to mind, from
the world's most famous motorist, Rodney King:
And if they don't, we'll freeze, personalize and polarize them! Rule 13.

Ivan Betinov


Comrade Loaf
Can't we all just get along in outer space?