Margaret

Hammer and Loupe

Biden eats rats? That is so communist. Ahead of his time.


The Ghost of Red Rooster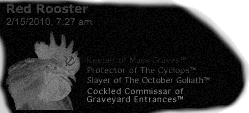 You are what you eat, Comrades.


Callmelennie
How very white priviledged, Comrades!! Over at the Karl Marx treatment Center we SHARE whatever rats we manage to kill in our cells

Otherwise, we get the truncheon


Hammer and Loupe

The rats belong to the collective.


Genosse Dummkopf

But the rat was a Rat of Korrekt Kolor! So, "cost us the election"? Phew...