Commissar Vladimir Ivanov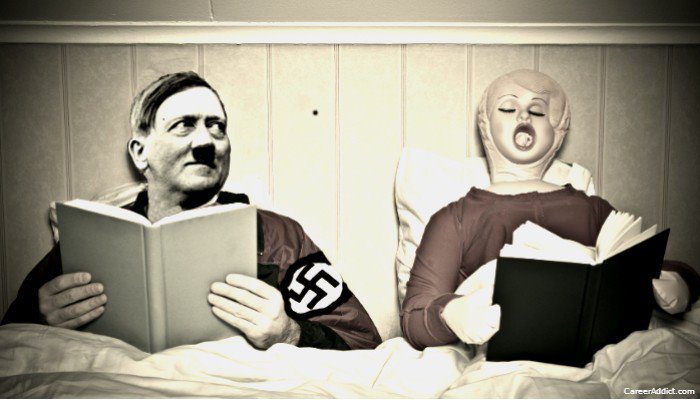 Fellow comrades:
While I glided over news stories to see what news stories actually existed or not, I ran into
this really odd story
.
Now, remember that Nazis and fascism are wrong, but this story really blew it over a top.
According to an Italian newspaper, non-person and non-dictator Adolf Hitler of the non-existent Nazis ordered the production of inflatable sex dolls for his soldiers! And imagine this: the doll would be a blonde, blue-eyed female with large lips and breasts, according to the text.
Hitler: Father of sex doll?


Italian newspaper 'Corriere della Sera' says Nazi dictator ordered production of inflatable sex dolls for S.S. soldiers; doll would be blonde, blue-eyed with large lips and breasts
By Nir Magal

The Nazi dictator Adolf Hitler ordered, in 1941, a Danish doctor named Olen Hannussen, to develop the world's first inflatable sex doll, the Italian newspaper "Corriere della Sera' reported on Monday.

The doll was went meant to serve the sexual needs of the German fighting man, who might otherwise go to brothels and contract a sexual transmitted disease – or worse, have sex with non-Aryan women and thus pollute the race.

The story of the sex doll first appeared in a Norwegian newspaper, which said that Hitler himself provided the measurements and design for the doll: "She should be a natural size with a pretty woman's appearance with white skin, blonde hair, blue eyes, 1.76 meters (5 feet, nine inches) high, with large lips and breasts."

According to the project, which was classified as "top secret," soldiers would inflate up the doll when feeling the urge, and it would meet their sexual needs.

The officer directly responsible for the sex doll project was S.S. commander Heinrich Himmler.



Perfecting the plastic woman



According to another report, Dr. Rudolf Chargeheimer, a psychiatrist appointed by Himmler to help develop the prototype, wrote that "the purpose and goal of the dolls is to relieve our soldiers. They have to fight and not to mingle with 'foreign women.'"

"However," wrote Chargeheimer, "no real men will prefer a doll to a real woman until our technicians meet the following quality standards: The synthetic flesh has to feel the same like real flesh. The doll's body should be as agile and moveable as the real body. The doll's organ should feel absolutely realistic."

The plan was never put into action because the factory that was supposed to manufacture the sex doll was in the city of Dresden, which was bombed by the Allies. And so Hitler never got to see his inflatable girls put to use.
Well, whether or not we have an official opinion on this or not, I do not know. I'll let the party officials comment on that. You can even voice your own opinion this as well.
A news story that is out of the ordinary...it happens from time to time.
Reporting (odd) stories (from time to time) for the good of the People,
Vladimir Ivanov
Red Journalism Headquarters, Moscow, USSR

Red Square

Kurt Vonnegut, in his Slaughterhouse 5, describes Dresden bombing as a crime against humanity. Now we know why! How many sex dolls never got to see the light of day because of the damn Americans!
It is clear now that Dresden bombing was a conservative ploy to stop world's progress towards sexual liberation.
War criminal Bush senior
was a pilot in that mission! It's yet another example of how people's real interests are being sacrificed to the phantom of conservative ideology!
I wonder what
masturbateforpeace.com
has to say about it...
(For those unfamiliar with that site, it's the MoveOn.org equivalent for the onanist constituency of the Democrat Party and all self-loving progressives world-wide).

Premier Betty

Many people don't realize that Comrade Ghandi was a nazi supporter....