Mrs Al Czarweary

We have been for calling them astroturf, but that was for withering.

We have been for calling them racist, but that was for whiting out.

We have been for trying to make for much violence at their assemblies, but they are for refusing to do the fighting back.

We have been for accusing them for being another tentacle of ever-spreading reach of Rethuglikkkan Reichwingers, but that has not been for good sticking.

We have even been for threatening to put them on terror watch list, but even that was for failing.

We have been for doing every Alinsky in such book and yet the Teabaggers are still for being of voice of darkness in glorious World of Next Tuesday. Until now...

There has now been way resolved that will be for doing in the Teabaggers once for all... SONG!!!! There is no one who can be for resisting such glorious tune and once it is to get stuck into the head of everyone there will be no way for extraction. Like a virus it will be for eating into every pathway in brain until it worms its way into nervous system when the entire body will be vibrating with such glorious chorus!

So get your foot to do the tapping and your lips pursed to do the whistling and everyone can be for learning the new tune which will be for the destruction of the Teabaggers!




Groucho Marxist

Snazzy tune. Should be all the rage with the prog types. Certainly much thought went into this latest campaign to destroy the hated TEA people.


Groucho Marxist

Mrs Al Czarweary!!!!! They have already launched a counter strike to the party's plan.

Fraulein Frankenfeinstein

I do not understand peoples who do not want to give more and more of their money to beloved benevolent government. How do they think the peoples will have their rent, cable and kitchens paid for if government does not give
me
us
them money? So selfish are these capitalist.
here is a tea party group in action - notice, they are ALL WHITE! spit

Comrade Putout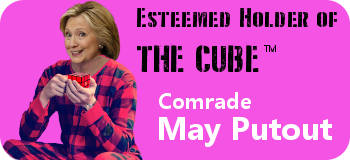 I'm kinda sick of the whole f*ckin' bunch!
How about you?

Comrade Putout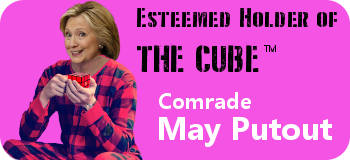 Meg's kinda mad...

El Presidente

What a most glorious song from our "intellectuals" on the left!! What deep thinkers they are, comrades. It is most glorious to see our side refraining from honest debate and intellectual dialogue and simply reverting to our roots of verbal profanity and hand gestures. Our re-education centers universities are doing such a wonderful job of teaching single minded group think open mindedness to their sheep people's.

Only more proof that our Party Organizer, Red Square, is converting the masses....one loon at a time.


Comrade Whoopie

Well, it's about time someone on our side addressed the specific issues that the Tea Party claims to be so concerned about. If the Reichwing can't come up with any logical response to the F*CK YOU campaign then we won the debate.

(hurray for us)


Grigori E.R.

Comrade Putout said; "I'm kinda sick of the whole f*ckin' bunch!"
Ditto........

Groucho Marxist



INCOMING!!!!!!