Red Square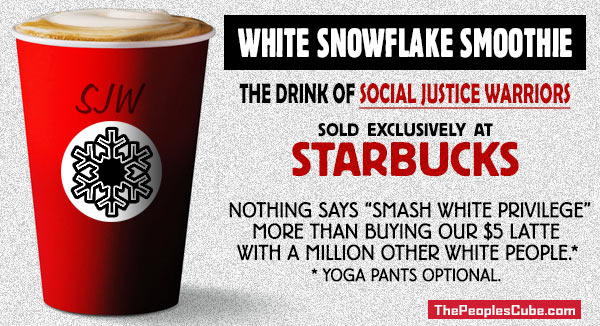 Reciprocating Trump's
#MuslimBan
, the CEO of Starbucks has vowed to start a campaign of discrimination against US citizens by
hiring 10,000 Muslim refugees
instead of the usual local applicants as baristas.
This, in turn, was immediately reciprocated by a call to
#BoycottStarbucks
by Trump supporters, who claim that Starbucks is an overhyped watering hole for pompous white Subaru-driving liberals in yoga pants. That is an outrageously divisive statement because it excludes unicyclists and Prius drivers, whose vehicles are equipped with three turn signals: a left turn signal, a right turn signal, and a supersized virtue signal.
Lately Starbucks has also become a home for fragile social justice warriors, also known as precious snowflakes who symbolize today's First World struggles.
Every one of them is a unique, fragile, and complex mechanism for turning five-dollar latte into urine. Loyal to this growing customer base, whose only ambition in life is to smash racism, sexism, fascism, capitalism, and white privilege, Starbucks has unveiled a new drink called "White Snowflake Smoothie" because nothing says "smash white privilege" more than buying a $5 latte with a million other white people.
It is true that this announcement by Starbucks has caused its stock to dive: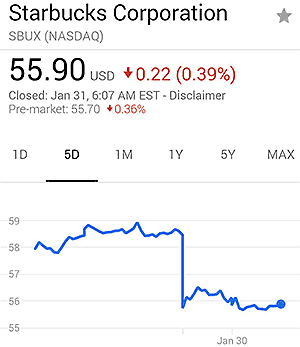 On the bright side, the Starbucks business model is guaranteed to flourish for at least eight more years, as long as the Starbucks CEO continues to tell his anti-fascist customers that Donald Trump is a fascist pig.
In the works is a promotional campaign involving the pictures of Martin Luther King Jr. and other civil rights leaders raising cups of Caffé Latte, Caramel Frappuccino, and other signature Starbucks beverages. However, the corporate leaders still haven't found a good slogan that wouldn't be perceived as racist by their easily triggered customers.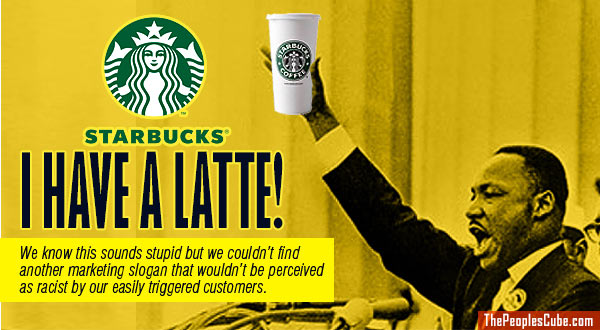 Comrade Jenkem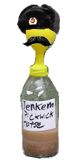 Accept no substitutes.

Red Square

This was
reprinted today in TruthRevolt
, with lots of good comments. One of them is below:
By Insanity Rules
[indentr]Wow, think of all the exciting new flavors that will come about....
Jihad Java
Suicide Bomb Brownie
Mohammed Mocha
Allah Almond
Sharia Sugar Cookie
Camel Cappuccino
Lalalalalalalala latte
All available at the Aloha Snackbar
This is why I make coffee at home.[/indentr]