Superkommissar Maksim

From Horowitz's
NewsReal
Today Collectivized Health Care – Tomorrow Amnesty For Illegal Aliens – What Will That Bring Next November?
Quote:
Yesterday the U.S. House of Representatives passed the Senate health care bill. If I were a committed Leftist like Barack Obama, what would I do next? You can bet that enough voters back home are going to feel sufficiently betrayed by their representatives' collectivization of the nation's health-care and insurance that a shift in power toward the Right could come during the next November mid-term elections. So, without stopping to take another breath, I would immediately begin the push for a quick Amnesty for the millions of illegal aliens in this country.

Solidarity 9-6347

We progressive democrats cannot worry about next November when we're focused on The World of Next Tuesday.


Comrade Buffoon

Glory to Maksim


Fraulein Frankenfeinstein

But of course! Is it not glorious!! NEW voters for the
fascist communist socialist Liberals
Progressives, ensuring
they
we never ever lose again.

Commissar_Elliott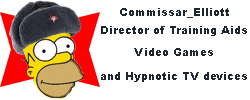 Fraulein Pulloskies
But of course! Is it not glorious!! NEW voters for the fascist communist socialist Liberals Progressives, ensuring they we never ever lose again.

The picture is included too, but to save a little space I deleted it.