Colonel 7.62

With an accurate representation of Comrade Kim's Ji Ji in both effectiveness and strength the peace loving Democratic Republic of North Korea are preparing to launch
yet another missile
to show their peaceful interest in self defense. (Self defense that can reach all the way to Alaska)
Comrades, we must applaud the resourcefulness of Dear Leader Kim in showing that even a
tiny little backwater country cut off from civilization and ruled by a midget madman who cannot get a proper erection
highly advanced People's Republic of noble peasants and workers joyfully working to defend their noble nation from Western onslaught can easily acquire self defense tools of this magnitude.

Commissar_Elliott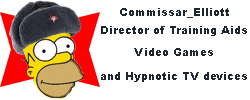 I'm laughing as I'm reading through the lines comrade.

On a lighter note, if they keep launching these missles, they are going to run out, and have to ask our Iranian comrades for some nuke material. In other words, start stockpiling Kim! Lest the USSA decided to elect (hahaha. . . yeah right) a crazy cowboy.