Margaret
---
They don't think about us! Why aren't we the center of their universe!

$.$. Halliburton

Why, all those people have gone rogue. Aren't there laws against rogueism? There ought to be a law. Pelosi needs to pass a law against rogueism. It's running rampant. I hear it's even spread to the Senate.

Down with rogueism!


Papa Kalashnikook

Hmmmm.....Of course, this morally superior man may be happier with the Democrats and their support of aborting full term infants. Dunno. Honestly, Joe Biden does a fine job discrediting himself, he needs no help.
Quote:
The editor-in-chief of evangelical magazine "Christianity Today" doubled down Sunday on his rebuke of Donald Trump.

Mark Galli appeared on CBS's "Face the Nation," days after arguing in an editorial that Trump should be removed from office because the nation's trust was betrayed by his attempts to "use his political power to coerce a foreign leader" to discredit one of his political opponents.

"I am making a moral judgment that he is morally unfit, or, even more precisely, it's his public morality that makes him unfit," Galli told CBS.

The magazine was founded by the late Reverend Billy Graham, whose son Franklin Graham is a major backer of Trump. The younger Graham and other leading figures in the evangelical movement closed ranks around the president Friday, and the president's re-election campaign announced a new "Evangelicals for Trump" coalition.
https://www.bloomberg.com/news/articles/2019-12-22/christian-magazine-editor-doubles-down-on-trump-s-immorality

Red Square

We are a real Christian anti-Trump movement! We swear! Why don't you believe us? We even have a van to transport believers to weekly DNC cermons.

Papa Kalashnikook


Papa Kalashnikook


Comrade Jenkem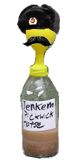 I never heard Planned Parenthood talking about evangelical magazines denouncing abortion. Outrageous!!!