Mikhail Lysenkomann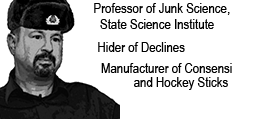 The Deniers have just had their last leg pulled out from under them.
WESTERN TOWN MOVIE SET BURNS IN CALIFORNIA WILDFIRE
They can shout "Hoax!" all they want, but nothing is more real to the People than
bread and circuses
a movie set. While it is a tremendous, incalculable loss to lose a
fake
town where
no one ever lived
brave womyn such as Dr. Quinn showed us all the superiority of female doctors, starship captains, astrophysicists, etc. etc. -- perhaps this tragedy will serve as a wake-up call to all the Deniers who scoff at
the Global Warming hoax
my important work here at the State Science Institute.
The deniers cannot deny this REALITY.

Red Square

The above screenshot, I believe, is from HBO's Westworld, with the street literally littered with the dead bodies of self-aware robots. The setting of the show in a distant future. I have watched two seasons so far, and in that future Global Warming doesn't exist. Climate change isn't even mentioned, let alone affect the planet in any way.

The same can be said about most sci-fi films set in the future. Unless they are specifically focused on climate change, the future climate they show us is just fine.

And that, comrades, is the greatest omission in our propaganda efforts. Films and TV shows that describe the planet's future climate unchanged subliminally condition the unwashed masses to think that Global Warming is not real and may well be yet another TV show on the Discovery Channel, happening between the reruns of Ancient Aliens and Cajun Pawn Stars.

There has to be an edict issued by the Party Central Committee to all loyal Hollywood studios, to incorporate climate change in all shows and movies set in the future, and to remove all non-compliant, non-Global-Warming sci-fi shows from circulation.


Papa Kalashnikook

Indeed. Our annual styrofoam burning contest to enhance global warming fall bonfire went swimmingly over the weekend.


Pamalinsky

Actually, I'm really looking forward to the new series on Cox: Hillbilly Thrill Rides! WOW! That's gotta be somethin'.


Warren Peas
Red Square
.. in that future Global Warming doesn't exist....

The same can be said about most sci-fi films set in the future. Unless they are specifically focused on climate change, the future climate they show us is just fine.

And that, comrades, is the greatest omission in our propaganda efforts.
Perhaps we non-deniers take super-majority control of both houses of Congress and depose the evil Trumphitler in the 2020 election cycle. Thus mandating policies and positions that lead the world to stopping 'climate change' and therefore explaining the pristine climate of the future.
That being the case, the "Glorious World of Next Tuesday" must be coming on "Super Tuesday" in 2019!!

ThePeoplesComrade

We are offended when Donald Trump points out the obvious.

Comrade Vasily Willy
Pamalinsky said . . .
Actually, I'm really looking forward to the new series on Cox: Hillbilly Thrill Rides! WOW! That's gotta be somethin'
.
Yes, Yes, Pamalinsky! And speaking of 'thrill rides,' pour yourself a nice beet vodka, (provided you've any left on your ration card, or any other of your favorite adult beverages) sit back and try to imagine this - if you will:
We will be . . .
Tilting at Windmills on a Cosmic Scale
Here we are on spaceship earth rotating on our axis about 1,000 mph (a little less here in the northern hemisphere depending on your latitude). And all the time engaged in our yearly journey around the sun cruising along about 66,000 mph. Essentially, hauling ass through space with cosmic background temperatures somewhere near minus 455 degrees Fahrenheit. The temperature in space, depending on our nearness to stars and/or sundry erupting cosmic events, can fluctuate between thousands of degrees to millions of degrees. Space can be truly a hostile place. Now keep in mind that as we travel around the sun in our super-duper 'thrill ride,' the entire solar system is traveling around 42,000 mph in its trek around the center of our galaxy; while the galaxy itself is moving at speeds a little above a million miles an hour.
Holy Cosmos, Mikhail! Are they really worried about global warming
?
Now here on earth deep below the crust and the mantle and our ever-shifting tectonic plates, scientists now say that the molten iron center of the earth rivals the temperature of the sun at 10,800 degrees Fahrenheit. Pondering all of this, there are actually people on the planet who would like to see us engaged in the grand experiment of altering the temperature of this little blue/white orb. A little tweak here and a little tweak there, a carbon tax here and a recycled aluminum can there, and we can adjust earth's thermostat and thereby achieve the optimum temperature. Many have suggested that a 'meager' carbon tax is all we need to kick off this grand endeavor.
Discounting the fact that no one can tell us just what that optimum temperature is supposed to be, they are, nevertheless, assuring us that we must work toward that ethereal and nebulous goal. The arrogance - and might I say stupidity - of these people is truly mind boggling. I saw the response to these people on a T-shirt recently:
Seriously, Clarke?
Pamalinsky, not only do these people use up oxygen and create carbon dioxide and vote, but some will 'fudge' the data and adjust the 'climate model' to fit their preconceived notion of what the outcome should be and yet still have the temerity to call themselves scientists.
A "Toast" to your recent nuptials
and the greatest "Thrill Ride" of our lives! May yours be one of Love and wonderment!P.S. Those CA wildfires were caused not by global warming but rather global heating from the extreme friction caused by our atmosphere as we sped past Weed, CA.
Seriously, Comrade Vasily Willy

Pamalinsky

Gotcha!

Dearest Comrade Vasily Willy,

Firstly: Thank you for your good wishes on our nuptials. Is there nothing The Cube can't do?

Secondly: Why, just this morning, after syphoning off our neighbor's vodka from his used clunker, we were discussing this very subject. My husband has researched this subject for at least 20 years, observing the effect of sunspot activity over the centuries. Currently, sunspot activity is low, causing cooling. It takes approximately 15 years for the earth to catch up in it's response. When sunspot activity is high, more heating can occur on earth. And, so it does.

But, taking into account those hillbillys who choose to remain ignorant and who continue to breath in H20 and exhale CO2, without which neither would survive, the manipulative possibilities are endless! They're so lazy they would rather lie than face the truth.

Al Gore told kids: "Don't listen to your parents", taking full advantage of their natural desire to become adults by extricating themselves from their parents control and taking responsibility for their own lives, a truly vulnerable place for most teens. He shamelessly did this in pursuit of his own ends: Total Control.



Al Gore is now a very rich man, and this Global Warming tax hasn't even started! All ya gotta do is pay a few extra dollars to the "Global Warming Fund" and you'll be cool.

"So", asks a forced payer, "what is my dollar going to do to prevent the climate from changing?"

"Just leave it to us/me," says Al. "We have tech that is too complicated for you to understand."

"We'll take care of it/you. Just give us the money!"


Comrade Vasily Willy
Pamalinsky, you and yours are more than welcome. The pleasure of the toast was all mine
- as long as my ration card holds out.

Your hubby is obviously a very smart man. I have it on good faith that a number of 'climate models' actually left the sun and solar activity out of the models but did include some bristlecone pine trees in the desert and some pine cones that that pesky squirrel Craptek hadn't requisitioned as yet. A reasonable person like Al Gore might ask . . . er, well, he might wonder, uh, . . . Oh well, never mind. We are most fortunate to live where we do, i.e., that 'habitable zone' in the vicinity of our star made habitable by . . . well, made habitable by our little star. So it should not get short shrift when analyzing earth's temperature.

Your clandestine morning exercise reminded me of the "Cash For Clunkers" program. And who could forget His O'liness' grandiloquence in promoting that program - which I had quite frankly forgotten all about. Just another $3 billion dollars of taxpayers money down the drain in an effort to 'turn down the thermostat.' Yes, indeed, just give us the money and we will fight the forces of nature for you until hell freezes over. . . . Uh, scratch that last statement. I get so confused with euphemisms and metaphors sometimes and that one wasn't apropos.