fit_to_print_news
An overwhelming majority of Americans believes Fox News delivers news with a conservative bias, according to a
New York Times
/National Public Radio poll conducted over a one-day period in July.
A whopping 67% of respondents describe Fox News as conservative or very conservative, with 8% describing it as liberal or very liberal, 24% saying it delivers news without bias, and 1% having no opinion.
The same poll reveals that only 17% of Americans perceive ABC, NBC or CBS news as liberal or very liberal, with 42% believing that their news is reported without bias. 36% say that Brian Williams, Charles Gibson and Katie Couric routinely deliver their news with a conservative bias.
This poll seems to contradict the assumptions of recent anecdotal reports that members of the major news media give disproportionately to politically liberal causes. In fact, an overwhelming 88% of respondents believe that giving to a liberal cause is no indication that a reporter will be biased in his or her reporting. However, 67% believe that a reporter giving to a conservative cause will likely or very likely indicate conservative bias.
National telephone survey of 350-400 adults with a margin of sampling error at +/-27 percentage points and a 100% level of confidence.

Premier Betty

All the more reason to ship Fox news off to the gulag.


Red Square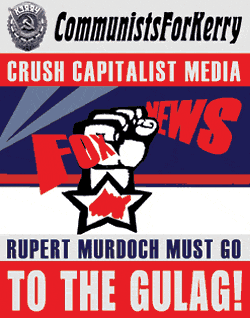 RedtheProgressiveFox


Comrade Otis

Fit To Print News should be a primary source of facts for all honest, well-intentioned soldiers in revolutionary struggle (our useful tools - the Trolls). I am very much looking forward to reading lots of loud histrionic harangues from Trolls who then back up their arguments with links to this formidable caisson of intellectual ammunition that is Fit To Print News.

Viva la Revolucion!