Comrade Whoopie

For untold decades NYC has depended on these brave selfless door workers. They stand outside in all sorts of weather, ever ready to open doors for people coming and going giving a jaunty salute and salutation. Besides opening doors they sweep the hall, sort mail and provide the first line of defense for the residents of their building. And all this for a paltry $40,000 a year plus benefits.
Comrades if this work action goes into effect we must show solidarity with our brothers. We must resist all efforts to replace these hard working men with automatic door openers. Residents of these buildings should not be forced to unlock and open their own doors, sort their own mail or have the already over worked cleaning crew vacuum the foyer.
Do not cross their one man picket line. Do not open the door yourself. Refuse to enter or leave your apartment building. Kill the landlord.

Mrs Al Czarweary

Only $40,000 per year? That is disgrace! Would not to even buy you parking space for one month in city! All must to join the cause!

Leninka

Oh, goodie, maybe now we'll be able to sneak upstairs to knock on Tina Fey's apartment door. I'm such a big fan of hers. She is a true defender of the People's Leaders like Peloski and his O'Zeroness. And I love the way she ridiculed that dangerous Sarah Palin. I could pretend I'm the pizza girl, and bring her a pizza.


Thought-Crime Warden
Comrade Whoopie


[the] one man picket line.
.
Comrade Whoopie,
Are you sure this picture is authentic and not merely a photo-shopped picture of the GEICO announcer immediately after being ruthlessly fired by GEICO merely for correctly calling all Tea-Partiers "mentally retarded"?

Commissar_Elliott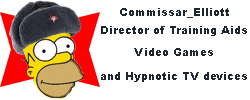 This is an outrage! If we allow automatic doors to be installed, not only will that put hundreds out on the street, but the electricity produced would further global warming.

Comrades, let's take this another step further, appoint one of these good people Door Czar. No one enters or leaves without their opening of the door. This would not only keep them employed, eliminate electric door openers, but here's the best part, it puts them in a position of power they have been oppressed from for over a century. I've heard and read stories of these good women and men standing out there in the rain, snow, heat, cold, fog, hail, sleet, slush, mud, drought, wind, dust, humiliation, and shame while their oppressive boss sits comfortably in his A/C office sleeping, or something like that.


Fraulein Frankenfeinstein

I am so full of tiny tears for this comrade in door arms (and he does remind me of the dear, late the late Mr. P, after he had fallen ill from those poison bad mushrooms). We must picket for social justice for our comradic doormen and doorwomanhood. Just look at this poor, weatheredly man! . . . probably lost money in his 401K and other retirement funds and annuities, with all that the greedy Goldman Sachs has perpetrated on the common people during the Bush regime. I must find my solidarity purple t-shirt (big enough to cover my well known well endowments, of course)!