Opiate of the People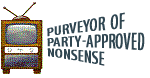 Presidential-Messiah-To-Be Barrack Obama today announced his plan to save the U.S. economy, trumping the puny efforts of his now-diminished rival, McSame Palin, and his sleazy associates in Congress. Lord Barrack has been secretly minting his own money in the Islamic Republic of Britain (see below) and will now offer them in exchange for U.S. dollars, negotiable stocks and bonds, gold, high-quality automobiles, top-shelf booze and good blow (if you have it.)
When Barrack Obama descends from the right hand of God next January and assumes the mantle of President-Savior, the "Obamalar", as it will be known, will become the official currency of the People's Republic of Amerikka. At that point, it will become illegal for any Amerikkan citizen to handle money because they have shown repeatedly they don't know what they're doing with it. Only licensed, authorized agents of the
Democratic Party
Federal Government wil be allowed to deal with financial matters of any kind.
(BTW, this will effectively put the Rethuglican Party out of business because the authorized government agents will not approve any of their expenditures at any time, not even for toilet paper! Just another wonderful benefit of the Brave New World of Barrack!) So rejoice, Amerikka! Your economic worries are now over! Barrack Obama will take care of you!
Note to the mint: Who the hell told you to put "In God We Trust" on the effin' box???? It's supposed to say "In Barrack We Trust" nitwits!

Red Square

Change we can believe in!