R.O.C.K. in the USSA

American president B. Hussein Obama
placed a call
to Russian president Vladimir Putin to discuss the Syrian situation. The two leaders disagreed on the solution to the escalating violence, but - as evidenced by these similar photographs of the two world leaders - they should have enough in common to eventually work things out.
White House spokesmouth Jay "Carney" Carney barked that, "The window is closing, we need to take action in a unified way."
Carney insisted that President Obama had not yet installed curtains on that particular window.

Red Menace

Vladimir Putin is Batman!


comrade crash&burn

So while these two
douchebags
esteemed heads of state can discuss the violence in Syria all they want, someone with a just a little more authority will have the
final say.

Krasnodar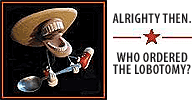 I wanna hear Dear Leader ring the little bell !


R.O.C.K. in the USSA

Me too me too!!!

~ding ding ding~


Rock Tsar

I got it. Comrade Putin wasn't sending Syria choppers like attack helicopters, but choppers like he is riding in glorious photograph! Who knew the Hell's Angels would be the ones to pacify Syria?