Rosie the Red

Comrades
I was most pleased to see the new official presidential logo for Our Leader's Healthcare plan! It is truly inspirational!
I know very little Latin as government-issued education protected me from that knowledge. I know the first part "Commune Bonum" means Common Good, and that's all that matters to me.
R.R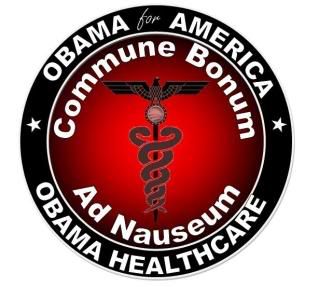 Red Rooster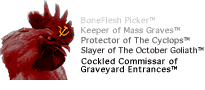 What a glorious ObamaCare Seal Comrade RR! Hmmm... let's see if my progressive brain can decify this Latin..

As you say Commune Bonum = Common Good, which is glorious, MOST GLORIOUS! It's all for The Children(TM) (and beastiality, transgender, hermaphrodites who eat them, but who's counting Rahm Emmanuael!?!) We work very, very, very, very hard for The Children(TM) and we want them to know that in 50 years hence. Just as how The Children(TM) now praise our dear comrade who first lead us so deeply down the road to The Glorious World of Next Tuesday(TM), FDR. He lead us so well, that WWII is an afterbirth, er, I mean afterthought of his great reign. He lead us so well that "Give Em' Hell" Harry Truman made a succinct note in his inaugural speech of the differences between Communism and Democracy.

Now, Ad Nauseum? Hmmm.. Holy Stalin's Ghost! I wish I knew a latin scholar at Berkely, or watched more episodes of Rosie Opigio setting the record strait on The View, then I would know what that word means. It's difficult being a prog, and hopefully soon The 0ne will get us all little machines that automatically give us the answer to such quandries, it hurts my brains to think about it, and that makes me want to whine, which reminds me... someone owes me something somewhere and as soon as find the bastard to sue, dammit, I'll get mine!

Meanwhile, it's back to the glorious work we do for The Party(TM), for the world would fall to pieces if we didn't tell it what to do and think.

Your Comrade in Barcode Arms,

-RR


Rosie the Red

Most insightful my Progonian Poultry Pal! The Vision™ of our leader is to expel the greedy, aristocratic middle-class so that we can all enjoy the "Commune Bonum" of proletarian life.

Peoplecare™ will be administered as our all-knowing magisterial government sees fit. We will want for nothing.. nor our children, nor our children's children, nor our children's, children's children!!
We will be properly medicated when we under-produce and properly disposed of when we fail to produce. We will become a hyper-efficient, self-maintaining mechanism which oils and replaces its own parts. And when the world sees us as masters of efficiency, we will incorporate them into His ALMIGHTY SYSTEM™.

All will hale to the glorious Obama, for saving us from ourselves and each other. If anyone should disagree, they will be deemed A Racist™ and cast into the pit of Uncitizens™ for Hatespeak™.
Death to anyone who questions HE or reads HIS bills before they are passed!!
Let us march Cockled Commissar in Hope™ and Obedience™!!
Yes We Can! ™

Your Crimson Comrade - R.R.


Red Rooster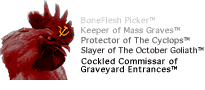 No comrade Rosie, no!!! Say it isn't so, you mean The White Hoose Womyn's Councyl is not over seeing Dear Leader's rule of the proletariat? Michelle's buff arms do not beat that ass every night?

Well, comrade Rosie, we can be thankful that at least he is a Femynist, what more can we Hope™ for other than starting the castrations right away! After all he graced the cover of Dear Stienman's MS magazine wearing his glorious "This is What a Femynist looks like!" t-shirt...

I am so grateful for Femynism, so grateful. I love especially how we got so many proles to believe in it as we buried our Communist agenda deep inside it, and hyr... Psyche Medusa Alla Carte™, a delicious dish... oh The Post-Modern World of Synthesis™ is grand, grand indeed!


Red Rooster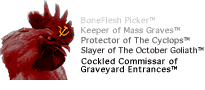 Mademoiselle Red,
We have prepared The Wombat Factory™ for your most esteemed visit, please join us when you are done with your ObamaCare visit, although we know that may take some time...
Rosie the Red visits The Wombat Factory
Your Esteemed Commissar and Host,
Red Rooster