Comrade Pavlovski

Dear Leader is absolutely right on this subject (and all others) of course. Without benefit of the MSM to filter Obama's speeches, pronouncements and of course live debates Rethuglican trolls like Mittens can simply say whatever they like directly to the people which is patently unthinkable.

Sugar Daddy Bear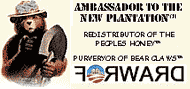 Thank Stalin -- and urine-soaked tingly pants -- that we have Repo men like KKKris "Fritzy boy" Mathspews to clean up the messes Dear Leader leaves behind by telling us all how to interpret these very deep and complex nuances Dear Leader is constantly engaged in.

Mittens™ didn't win at all; he was wiped clean by a jihad of nuance too complex to understand.

FOR MORE EARS!


Opiate of the People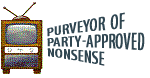 My superiors in the Party have informed me I am convinced Comrade Pavlovski is correct. Of course, I am always convinced Comrade Pavolvski is correct after he rings the bell and some foodstuff is dispensed (I fail to understand why because I am a TV set and foodstuffs would seem to be irrelevant to me....) Anyway, perhaps this technique can be employed with future electronic devices to condition educate the masses... Bell rings, viewer is presented with and absorbs correct Party interpretation of what has been shown on TV, foodstuff is dispensed. And if we can get the Obama phone to administer suitable electric shocks for incorrect answers, utopia will be within reach.


Apparatchik Unkulturny

Why, oh Why, oh Why
can
Our Obammunist Commissar Master
NEVER
be given "
An Even Break
" by The Running-Dog Amerikkkan
"Big News" Criminal Conspiracy
(controlled as it is by
The Rethuglikkkan ThoughtMasters
)?
In last night's shameful
inquisition
of
Dear Leader
,
Our

Magnificent Commissar Leader
Personal Example He
was
Virtually
-Martyred
- and was
never
given
even a chance
to explain
His
position on
any
issue. The "news" "moderator" - that "Lehrer" Thought-Criminal - of this "literal" crucifixion should have been summarily shot (and would have been under
Brilliant Genius Leader Stalin
!)
No one else
would have allowed
Dear Leader
to be so shamefully interrupted - and humiliated - by a
Revanchist Counterrevolutionary
like
Thought-Criminal Romney.
My
Our entire collective is planning to start a petition to
Require More Equal Results™
from every future
"Presidential Debate."
And let's not even
START
on the Vice-Presidential Debate - which
Acting-President
Actual Vice-President
-
Joseph Biden
has
decisively won
,
even before any words are exchanged.
After all,
Who Is Better Suited For Vice-President That The Man Chosen

By Dear Leader
?
No One!