TheFineReport.com

The EPA training our children to be Obama's little Soviet commisars: rat your friends and family out to the government.
It's a horrible thing when you no longer trust your government. It's even more horrible if you do nothing about it.
This, from the Obama EPA:
On the website page is a link to a 26-page EPA report entitled, "Sensible Steps to Healthier School Environment." In the report's chapter on Energy Efficiency, the EPA presents a box with items to help establish "Energy Efficiency Opportunities for Schools."
One of the items in the box reads, "Educate students and staff about how their behaviors affect energy use. Some schools have created student energy patrols to monitor and inform others when energy is wasted."
http://cnsnews.com/news/article/epa-cel ... gy-patrols

Counterpunch
With Czarina Michelle's food program these patrols will have all the energy they need!


TheFineReport.com

Here's one of the liars:
Useful idiot David Letterman
suggests Romney didn't pay taxes, calls him a "felon:"

Comrade Pistov
Comrades
Holloween is weeks away. This year lets break into all the schools, turn on all the lights and spray paint the windows black so nobody can see the environmental damage. Is fun prank, yes?


Sugar Daddy Bear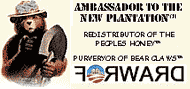 Comrade Fine,

David Letterhead, and his ilk, aren't "liars" per se; they are purveyors of the Current Truth™.


Anyer Marx