Krasnodar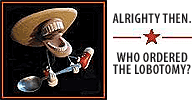 To counter a possible recurrence of Republican deceptions that Romney used in the first debate, such as logic and reason, Dear Leader will once again show us what he is made of.
And in the upcoming second debate, it will be cardboard.
Undoubtedly, this is one of his October surprises that the MSM will surely hail as a stroke of his manifest brilliance. Here's how it works.....
The Obama cut-out has a speaker
attached on the back that is linked to the actual Obama and his battalion of advisers backstage.
When Mittens makes some blundering, stupid remark, as he is apt to do,
Barack will beat him down 1-2 minutes later by simply reading from his teleprompter and having it broadcast from his cut-out on-stage !
( White House lawyers have announced that this debate format is plausibly legal.)
It's a done deal, kids.

Red Square

The Afghanistan part of the debate is in the can!

lenismith
Obama is a good speaker. No wonder, he won the debate.