Komissar al-Blogunov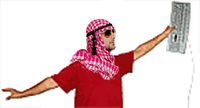 In what could turn out to be a nasty October surprise for the Romney campaign, the Obama campaign has publically affirmed its support of
earthworm marriage
.
"I have evolved on this issue," said the president, "and I believe that earthworms have just as much of a right to marriage as anybody else." Vice President Joe Biden approached the podium and added, "My father married an earthworm – would have married an earthworm if he'd been around. Anyway, Republicans gonna make earthworms out of all y'all."
In some remarks at the close of the press release, Secretary of State Clinton and First Lady Obama both emphasized how discrimination against earthworms, especially during the Bush years, poses the greatest threat to our national security. "I am sick and tired," began Secretary Clinton, "of people telling earthworms that they're unpatriotic if they marry. I say it's time to stand up and say that EARTHWORMS ARE PEOPLE, TOO, AND SHOULD BE ALLOWED TO LIVE WITH THE PARTNER OF THEIR CHOICE!"
Hardball host, Chris Matthews, said near an open microphone, "I don't say this often, but when I hear [the president] talk about earthworms, I get a thrill up my leg!"
"I hate to say it, but it's a brilliant move," said former Clinton campaign advisor Dick Morris. "It puts the Romney campaign completely on the defensive with an issue that Republicans are clearly uncomfortable discussing in public."
The Romney campaign, usually very quick to respond in a timely and clever manner to the latest statements from the White House, was clearly caught off guard. First Mitt Romney stated that he felt earthworm marriage was a "deep personal choice" in which "government should not be involved". Later, after a phone call from Republican Party thought controller Dr. James Dobson, Romney changed his statement to say that earthworm marriage should be only between one man and one woman. Later, after a call from Romney's eighth grade biology teacher, Romney then changed his stance to "Oh, yuck."
Paul Ryan stated that earthworm marriage was okay by him, clearly indicating disunity and a lack of communication in the Romney campaign. Even less helpful to the Romney campaign is a recently discovered picture of Paul Ryan fishing in his early twenties while using live bait.
"This is it," said commentator David Brooks, "the wheels have come off the Romney campaign. Furthermore, I saw a picture of little Barry Obama when he was only ten digging for earthworms. When I saw that crease in his shorts, I knew he was destined to be a great two-term president."
Still unanswered is whether the Republican platform will include adoption rights for earthworms.
Recent polling data indicate that Obama enjoys a 12 point lead among likely earthworm voters, although critics point out that the polling sample was skewed by a 2/3 majority of Democrat earthworms.
"Still, he's got a lot of catching up to do if he's going to narrow that lead, and for Romney, time's running out." concluded Mr. Morris.

Jíbaro

69
must be our favorite DЭMOCЯAT Paяty number.

Red Square

Poor earthworms. Next thing you know, the cold-hearted Ryan will tell them "You can't eat earth and have it, too!"

$.$. Halliburton

Read it and weep, commie worms. Here's something a lot of people don't know.
Earthworms in much of America are all a consequence of the unintended consequences of good old western imperialism! Perhaps when the Indians throw us all out we should take with us the terrible earthworm scourge that has completely altered America. They're what's known as an "exotic." Here where I live the Lefty knuckleheads are doing everything they can to do away with "exotics" and reintroduce the flora and fauna that was here a few hundred years ago, as if that wasn't "exotic" at some point in time.
Earthworms are NOT a politically correct, umm, thing. Obama has screwed up again. Commie worms.
America,Found and Lost National Geographic - May 2007

General Confusion

A much bigger question is: Who speaks for the flatworms?


Opiate of the People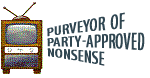 Quote:
"This is it," said commentator David Brooks, "the wheels have come off the Romney campaign.


That is good news. Romney has been using those wheels to flat-out suppress the votes of earthworm Obama supporters! We must stamp out this discrimination before it buries us! It's time to get down and dirty!


R.O.C.K. in the USSA

I must confess to being more than a little concerned about the discrimination against the West Nile Virus mosquito I've been hearing lately as well. Obviously, such discrimination against and non-tolerance of the mosquito is a raaacist slam against the Arab Spring, since the Nile is in Egypt and Egypt is at the very heart of the Arab Spring.
DEATH TO MOSQUITO REPELLANTS! BEHEAD THE INFIDELS!!

Komissar al-Blogunov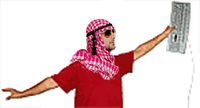 This just in...

General Confusion

I would recognize those cherokee eyebrows anywhere!