Ivan the Stakhanovets

Some Chinese Offended by 'Rapper' Obama Chewing Gum During State Visit
The population of China has recognized what the Amerikkan public is still learning, Dear Leader (PBUH) is a rennaissance man of many talents, which now include RAPPER.
By merely chewing gum, Dear Leader has convinced all of China that he is a skilled hip-hop freestylin' machine, without producing a single rhyme (a technique previously perfected with the award of a Nobel Peace Prize).
Jay-Z has demoted himself to amateur to preclude encroaching on the aura of Dear Leader's accomplishments, thus ensuring a return invitation to the open bar at Barry's Crib.

Imperatorskiy Pingvin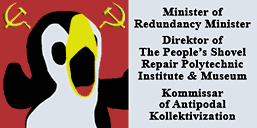 Jay-Z was always JV, anyway.


Kelly Ivanovna/келя ивановна
The problem is: a shortage of good rap names. I checked a bunch of rap name generators and entering "Barack" doesn't bring up anything interesting. However,
Rum & Monkey
has a great generator for old skool DJ names, and it turns out the president's is:
DJ Acid Headcracker.
In the meantime, Comrade Imperatorsky, the idea of rap demotions have some people around here a little nervous: