Superkommissar Maksim

His O'liness has submitted the 2011 budget, which hikes government spending to an unbelievable $3.83 trillion. It also contains a large variety of tax hikes and only a few minor cuts. This brilliantly progressive budget will no doubt be used by the Party Of No as a weapon, so we must prepare. Use this Bloated Uncle Sam poster as a counter attack tool, it will surely shut them up.
Alternative slogans are welcome, and an extra ration of beets for the first to identify the fictional character who eyes, nose and mouth were used on Fat Sam.

Opiate of the People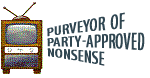 Excellent! Spending to reduce the deficit is like fighting fire with fire.... or drinking to cure alcoholism! It always works!

Right now, my house is being foreclosed upon and my credit cards are months overdue. I have to hurry to finish typing this before my electricity and internet services get shut off and my computer is reposessed. So what am I going to do? I'm going to follow the example of our glorious Congress and GO BUY A ROLLS ROYCE!


Czar Czar

I declare myself the winner with this caption:

"IT'S BUSH'S FAULT-
HE FAILED TO STOP US FROM SPENDING LIKE DRUNKEN SAILORS."

Also I submit that your 'fictional character' is "Joe the Plumber" (spit) who is a figment of the collective imaginations of John McSame and Faux News- death be upon them.


Komsomolka Olga Katrina

That's one scary-ass Uncle Sham.


Panem Et Circenses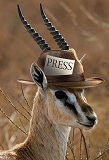 Boris! Moose and Squirrel!


Fraulein Frankenfeinstein

More glorious socialist spending from our dicta in Chief! Oh praise his O'linessessss! He is implementing the same budget which we use in the Pulloskies
gulag
household have tried. When we couldn't pay our bills and the evil kapitalist creditors were repossessing our capitalist goodies, we SPENT SPENT SPENT our way out of debt! Then we called on our government mentors for a bail-out/entitlement.
We're still waiting on 'positive results', but the Comrade's in charge of our
gulag
"free resident", say to remain positive. "Hope"
is
"change"
or some crap like that.