Comrade Whoopie

Out of character warning dear comrades...

So today Obama's teleprompter told him to say this:

Speaking on the public outrage at the AIG bonuses he said we must find ways to channel our rage.

What does that mean? He wasn't trying to calm people, but rather whip up the mob and focus their anger.

Towards what?

Big business, CEO's and the entrepreneurial spirit that made this nation.

Then he went on to say that if the stock market and big business think that it will ever be business as usual, they are mistaken.

Again, what did he just say?

He said that "business as usual" (capitalism) will never be the same if he has his way.

These are scary words my friends. It's increasingly clear that Obamaintends to bust the balls of anyone who dares to dream of being their own boss and creating new opportunities for themselves and their employees. In Obama's world only mega corporations which are largely owned and controlled by the government will have creative license.

Everyone else will have but one option in their miserable lives. To wake up, trudge off to a job they hate and punch a time clock for whatever the government feels they deserve in pay. And then whatever that pay may be, it will be heavily taxed. Not only to provide revenuefor politicians to lavish on their supporters, but also to guarantee that there will be no inheritance for the next generation by which they might pursue their dreams of a better life than their parents had.

We saw what this economic system did to people in the old Soviet Union.The only possessions people had were the clothes on their backs. They lived in tiny government owned apartments. Worked dreary jobs in government industry. When they weren't working, they stood in long lines just to buy a loaf of bread or their ration of meat. And then after standing in queues for hours, when they finally got in the door of the shop, they discovered that whatever they wanted was sold out.The only thing that never seemed to be in short supply was alcohol. And the depressed workers medicated themselves with it liberally. Nearly everyone was an alcoholic, not by choice, but because it was the only escape from the hopelessness that the system forced upon them. This is Obama's dream of a perfect world controlled by a few elites, the "first among equals". For those few who were "more equal" than most, it was indeed a dream come true. For all the rest, an inescapable nightmare.

This man, Obama is a danger to America and his ideology is a danger to humanity. History has shown that beyond any debate. These people must be stopped. They and their ideology must be destroyed. There is no option, no compromise. They are like a cockroach infestation. To allow even one to survive is to guarantee a new infestation in a week or month. They must be utterly rooted out of humanity. And the longer we wait to do what must be done, the more harm they will cause, not only to us, but future generations to come.


Commissar_Elliott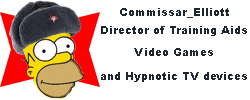 You know, we could harness the power of Ayn Rand, George Washington, Thomas Jefferson, and George Orwell if we tied a copper wire around their bodies.


Colonel 7.62

I think I'm going to be sick(er). Just the thing for me to be reading on my first serious attempt at reading The Cube in the last three days... Excuse me while I go mix some People's Tasty Creme...


Commissar_Elliott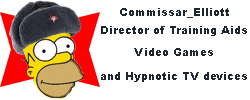 Don't forget the pinch of snake oil!


Navigator

I keep hearing about Faith, Hope and Change but 1 + 1 is still 2 in my book. My government insists on acting like an enemy of its own people. They insist upon doing everything I know is wrong. "Government is the answer" they say. My fellows citizens have gone mad with a zest for socialism and a side order of fascism. Digging their own graves me thinks.
The carnivores are circling just outside the light of our fire. The harvest may not be so good this year.
Is it any wonder I can relate to Shrek....or Donkey?



Commissar_Elliott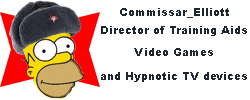 Did I hear a "baaah!" from the choir?

Comrade_Tovarich

Comrades,
Yahoo! Truth articles tend to disappear quickly, but "
Most Britons have lied about the books they read
" is a good bit of Truth, if you can still read it. Considering the books at #1 and #9, Britain sounds like a progressive paradise ready for mass purges! I'm now puzzled at how The One could snub the current UK PM, a progressive fellow-traveler. Granted the man seems to be living on borrowed political time.
Correct thought explaining this enigma will be appreciated.
Quote:
The study, carried out on the World Book Day website in January and February, surveyed 1,342 members of the public.
Those who lied have claimed to have read:
1. 1984 - George Orwell (42 percent)
2. War and Peace - Leo Tolstoy (31)
3. Ulysses - James Joyce (25)
4. The Bible (24)
5. Madame Bovary - Gustave Flaubert (16)
6. A Brief History of Time - Stephen Hawking (15)
7. Midnight's Children - Salman Rushdie (14)
8. In Remembrance of Things Past - Marcel Proust (9)
9. Dreams from My Father - Barack Obama (6)
10. The Selfish Gene - Richard Dawkins (6)