Superkommissar Maksim

HuffPo
10 Things Obama Should Do at the United Nations This Week.
Some of these actually make sense.

Comrade Buffoon

I assume in this version Valerie Jarret would play Danny DeVito' role?


Sugar Daddy Bear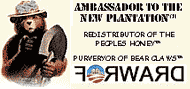 How did this guy get this stuff posted on the Huffingpuffington post? I wasn't aware that they're now doing satire. Dear Leader's tongue would light on fire before even uttering a word of these... "suggestions".

I think there's going to be a long, cold winter in the gulag for someone.


ThePeoplesComrade

I denounce Richard Grenell as a Thought Criminal and demand he be banned from the People's Blog (Huffington Division).


Mrs Al Czarweary

I am for needing new glasses. I had to be making for many checks that I was for reading the Huffington Post. It was more for sounding like Faux news piece.

I am also for the denouncement of this Richard Grenell.

Glorious work, Superkommissar Maxim.