Cradle to Grave Marxist

China space mission article hits Web before launch
Thu Sep 25, 9:20 AM ET
BEIJING
- A news story describing a successful launch of China's long-awaited space mission and including detailed dialogue between astronauts launched on the Internet Thursday, hours before the rocket had even left the ground.
A staffer from the Xinhuanet.com Web site who answered the phone Thursday said the posting of the article was a "technical error" by a technician.
Hu gets a shovel
~
When questioned how the guilty technicians were to die for this error, The Obamessiah's spokesman, Robert Gibbs, said: "My sense is there's going to be a stage, a moderator, an audience and at least one presidential candidate."
Obama to China's Space Mission Fiasco: "Call me"
Hope and Change for The People

Stalin for Time

/Character Off

Tomorrow's news - Today!

Reminds me of the joke about the Soviet sportscaster reading off the hockey scores. "Minsk 2, Leningrad 1. Moscow 1, Kursk 0. Pskov 3, Omsk 1. Oh, wait! Those are tomorrow's scores!"


Ivan Chetvyorty

I believe Comrade Kreskin may now be working for our Chinese brethren! Glorious day indeed!


Laika the Space Dog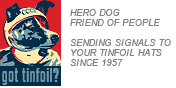 Yeah, right.

It was all staged in the same lot in Bollywood where they did the Krishna missions to the moon back in 1969.

Wait....no, I meant they were all staged in the same lot in Hollywood where they did the Barack...(damn rust on the antenna)....I mean Apollo missions to the moon.


Premier Betty

Bollywood movies are messed up....


Comrade_Tovarich

Comrades,

I don't know about you, but I plan to toast this amazing feat with a glass of Chinese milk!


Premier Betty

In that case, I will see you at the funeral.


Comrade_Tovarich

Comrade Premier Betty,

Quite likely, unless it is Chinese-pirated Chinese fake milk, in which case it might turn out to be the real thing.


Comrade_Tovarich

It is strange that US footage that I have seen of the melanin-tainted Chinese foodstuffs is of packaged goods with Korean writing (and English) on them. Japan has been getting tainted rice from China, rice that was supposed to be used to make glue but wound up in food and liquor.


Premier Betty

Never buy anything from China....