Komissar al-Blogunov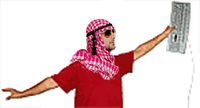 Glorious news, comrades! Not only has the Obama administration rescued the auto industry from capitalism and the banking system from the free market, but now they will
rescue the internet
from you. Praise Darwin that we have a government that sees the threat of too much freedom and is taking steps to prevent it.
No doubt Neocon, Busheois Repugnantcans will wail and howl over threats to "free speech" to which they bitterly cling along with their guns and religion. But they must learn that these are obstacles and hindrances to ushering in the Socialist Utopia of Next Tuesday. In fact, they will learn. But in the meantime, our most beneficent Dear Leader assures us that...
"The report suggests that although it is a key government responsibility to help secure private-sector networks, regulation should be the last resort, the sources said. The report touts the concept of public-private partnerships to protect nongovernmental systems. It discusses the need to provide incentives for greater data sharing and risk management, and to use the procurement process to drive greater security, they said."
Who could object to a public-private partnership and the sharing of
personal information
data? And regulation would only be a last resort, honest.
So pass this along to all the thought criminals in your circle of family, friends, and coworkers. Assure them that the government has no intention of intruding into their personal lives, and that they had better get used to the idea of the government intruding into their personal lives.

Comrade Whoopie

But, but, but...how will the People get the current truth when legitimate news outlets like the Huffinglue Post, Daily Kos, MoveOn and of course, the Cube are shut down?

Without the First Amendment gimmick the ACLU will have no excuse to harass conservatives and expose our nation's secrets.

Without the net, how will our anarchist cadres know where to gather for the next WTO meeting?

And once again, I find the title "Internet CZAR" to be troubling. Obama is too fascinated with royal titles. This must stop!


Komissar al-Blogunov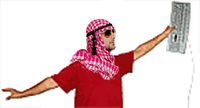 [justify]Comrade, do not fear. We have assurances that Dear Leader will only use regulation as a "last resort." That means regulation begins tomorrow, but only to expedite, not hinder, the enlightening of the masses with the Current Truth
[sup]TM[/sup]
. Daily KOS, MoveOn, MSNBC, and other stars in the people's firmament will continue to shine brightly, perhaps even more so with the aid of government assistance upon which all life forms must depend.
In other words, there will never be regulation, but the only ones getting regulated will be the ones who need it - The Capitalist Criminal Who
Rushes
Runs America, the Irish guy, the Vietnamese woman, and all the other candidates for reeducation. When regulation fails to materialize (as our faithful news outlets will uniformly minimize its impact and cause us to chuckle at conservative hysteria), only criminals will be regulated. So again, don't worry about regulation, get used to it.[/justify]
Phrophet
Over five thousand years ago, Moses said to the children of
Israel "pick up your shovel , get your asses and camels,
and I will lead you to the promised land".
Nearly 75 years ago, Roosevelt said, "Lay down your shovels,
sit on your asses and light up a camel, this is the promised land."
Now, Obama is going to steal your shovel, kick your asses, raise
the price of camels and mortgage the Hell out of the promised land.


Commissar_Elliott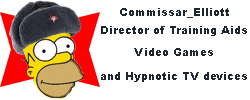 (off)
Oh joy, an internet like in Chinawith Chinese google as our search engine.

Komissar al-Blogunov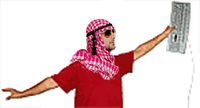 [justify]It's for The Children
[sup]TM[/sup]
, Commissar, The Children
[sup]TM[/sup]
! They
must
be protected from access to information, parents, churches, wholesome role models, and other pernicious influences. What better place to begin controlling information than the web? You wouldn't want some teenager stumbling onto a site like
this
, would you?[/justify]

Commissar_Elliott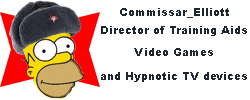 Nooo. . . the last thing we need are teens going on this kind of site and spaming it, or worse, learning from it but just note the (off) I put up.


Komissar al-Blogunov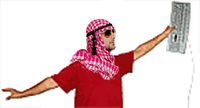 [justify]I did. It's just that the "Oh joy" line could be read with eyeball rolling irony, or with welling, progressive joy.[/justify]


Commissar_Elliott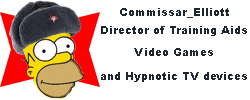 Not to mention by people who don't know how we operate on this site.