F.A.R.C.-EP

Comrades,
Many would suggest that nominating the proven liar Comrade Rice to NSA would be a "risky move" for Obama, this is not so.
When you are a Dictator, like Commandant Obama, you don't ask questions, you just DO!
This is the equivalent of the evil George W appointing Scooter Libby as the NSA; could you imagine the media outcry?
Don't worry, even though Leader Obama has tapped reporters' phones and named some of them as co-conspirators, they still love him like the good leftists they are.
Here's a great example of propaganda given to us by CBS...
Quote:
Rice, the current U.S. ambassador to the U.N., has received harsh criticism from Republicans for her initial characterization of the Sept. 11 attacks on the U.S. compound in Benghazi, in which Ambassador Chris Stevens and three other Americans were killed. Her account, based on CIA talking points, indicated the attacks stemmed from a spontaneous protest, which proved to be incorrect.
You see, it was the CIA who did it, not poor Ms. Rice, she was just following orders! Never mind the reported 12 changes to the talking points issued by the State Department, irrelivant info! That was textbook glossing over there, perfect job CBS. The lack of curiosity in the MSM helps out Barrack immensely, we should all be truly grateful of this.
Quote:
CBS News political director John Dickerson addressed possible explanations for the personnel changes on "CBS This Morning."

"I don't think it's unhappiness [with Donilon's perfomance] ... Rice has a long relationship with the president. When she didn't get the secretary of state job, people in the White House said that this was a real disappointment to the president because they saw the world in the same way," Dickerson said. "They wanted to have [Rice] more in the inner circle."

You see, they both see the world in the same way, they both believe YouTube videos are acceptable and valid excuses for Foreign Policy disasters. Comrades, even I am sometimes taken aback by how in-your-face our Great Leader Obama is, he really is something else. Obama, unsurprisingly had nothing but praise for Comrade Rice.

Quote:
WASHINGTON -- President Barack Obama is hailing U.N. Ambassador Susan Rice as "extraordinary"
Wow.

Vladimir_Scratchanitch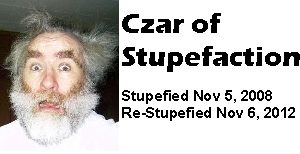 Quote:
...the left corner of his mouth configures laterally in a specific manner to signal his emotion of regret (however there are other nonverbals consistent with this emotion). Of course we do not know whether he saw something written in the margin which he didn't like - or if he thought a portion of the speech was less eloquent then he desired - or it could be that he believes that he has regret that America could have accomplished more or done things differently. We cannot say why, but the President was feeling regret at this moment.

Red Rooster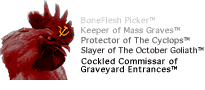 I like doughnuts too... doughnuts are delicious.... some days we get cornedbeef and cabbage... never mind the glorious beets.

Soon all comrades can have a Dunkin' Doughnuts glazed green eggs and ham breakfast too...

To Next Tuesday!


R.O.C.K. in the USSA

Comrade Rooster, you'll want to be careful how and when you say the "doughnut" word if you're in
New York
. Just sayin...

Red Square

From Steve Bowers: