Centers for Disease Control

Excerpts from the writings of Lavrentiy Beria
, a Soviet patriot and expert psychopolitician.
... Man is a collective animal . . . those who . . . control him must have . . . specialized techniques to direct . . . man toward . . . the goals of the state. Psychopolitics is the art and science of asserting and maintaining dominion over the thoughts and loyalties . . . through "mental healing."
It is of utmost importance that the psychopolitical operatives infiltrate the healing arts of a nation.
Psychoanalysis . . . can be made fashionable throughout mental health organizations . . . . Constant pressure . . . can bring about legislation . . . that every student attending a high school or university must have classes in psychology . . . .
Labor until we have dominion over the minds and bodies of every important person
. . . You can change their loyalties by psychopolitics. In rearranging loyalties, we must have a command of their values. . , . You are aided on all sides by the corruption of the philosophy of man in the times.
Use the courts, use the judges, use the constitution of the country,
use its medical societies and its laws to further our ends
. . . Effect your own legislation at will . . . By psychopolitics create chaos.
Leave a nation leaderless.

Children normally furnish the best targets
, and these can be operated against without restraint. . . . By making readily available drugs of various kinds, by giving the teenager alcohol, by praising his wildness, by stimulating him with sex literature . . . the psychopolitical operator can create the necessary attitude of chaos, idleness, and worthlessness. . . . if we could effectively kill the national pride and patriotism of just one generation, we will have won that country.
...we had to destroy, after many, many years of the most arduous work, the Church; so we must destroy all faiths and nations marked for conquest. . . . We have battled in America since the century's turn to bring to nothing any and all Christian influences
and we are succeeding.
It may happen that
remedies for our "treatments" may be discovered
. . . . It may thus occur that all mental healing might be placed in the hands of ministers and be taken out of the hands of psychologists and psychiatrists . . . should they occur, should independent researchers actually discover means to undo psychopolitical procedures, he must not rest, he must not eat or sleep, he must not stint one tiniest bit of available money to campaign against it, discredit it, strike it down and render it void. For, by an effective means, all our actions and researches could be undone.
By David Todeschini

Che' Ramie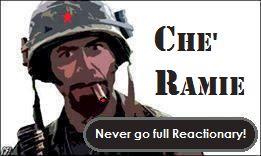 R.O.C.K. in the USSA

Comrades, please - stop the hate!
The Road to our glorious Next Tuesday™ is bound to have some glitches and bumps, but we're nearly there!!

Comrade Putout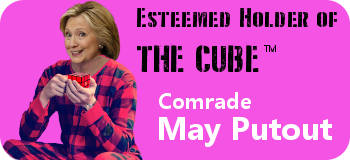 .
.
Not these two guys again!!
.
.