Chairman M. S. Punchenko

The Messiah has another "inspiring" broadcast for us, Comrades.
I told you all to get those Party-issued prayer cards filled out.


Tip of the ushanka to http://www.Hotair.com


Chairman M. S. Punchenko

I'm glad both George Costanza and Dr. Idi Amin were featured in this video. Both are sterling examples of good, wholesome Progressive Democrats -- oh, let us not forget Barry Manilow, too!


Marshal Pupovich

I don't know Meow.... has the party sank so low that we must resort to appealing to the religious opiate of the People? I do not recall Lenin using such reactionary methodology. More and more I cry out for the Empress to lead us out of this hole! Obana's poll numbers are astoundingly low at this point! Remember the huge leads we enjoyed in the polls prior to the conventions during non-person K and eventual non-person Gore's seemingly unstoppable campaigns? Now if they could squander such a lead, where are we with Obama's current standing?

Hopefully that cash I sent you was used wisely. perhaps that will help make a difference.


Chairman M. S. Punchenko

Obama is going to make the darkness go away, Comrades! He is going to free us from the Bush/Cheney police state! I... I'm getting tingles! Ohh! Wonderful, wonderful tingles up my leg, Comrades!

Money, Pupovich!? Who needs money when you have HOPE!


Ivan Chetvyorty

Amazing! Glorious! Inspirational! HOPE
™
we can believe in! If it's in color it has to be true! What glorious times we live in! All
heil
praise the Messiah!

Opiate of the People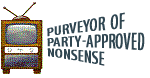 It's true! I have had a glorious vision! In my vision, Obama was in the desert for 40 days, fasting (actually, eating nothing but Argula.) Then Satan (who looked quite a bit like george bushitler) tried to tempt Obama by saying "Barrack! If you renounce the Proletariat and join the Republicans, I will put you in charge of Amtrak." But Barrack refused to sin and then walked up into the mountain, where he became all squiggly and shiny and was joined by the spirits of Abraham, Martin and John! And I knew when I saw this there are two things I must do tomorrow:
1) Call Popeye and tell him "F**k spinach, man, start eating Argula!"
2) Liquidate all my personal possessions and send all the money I have to Barrack Obama for in this way, finally, I will have HOPE! (I hope I will, anyway.)


Chairman M. S. Punchenko

Only the Messiah could resist being put in charge of Amtrak. There is no greater position to a progressive than to be the Great Overseer of Amtrak. It is the reward of rewards, Comrades -- not even being the Great Overseer of PBS could possibly rival that of Amtrak!

Many have perished in their quest to become the Great Overseer of Amtrak. Only the most incompetent can pass. He truly is The One!


Marshal Pupovich

Chairperson Punchenko
Money, Pupovich!? Who needs money when you have HOPE!
Great Stalin's Ghost! What have they done to you Chairperson?! Quick, someone give me a bundle of cash and a fifth of cheap booze in a Hummel style bottle!
*Marshal Pupovich begins to administer CPR (Cash Punchenko Resusitation) by waving a bundle of $100 bills under the Chairpesons nose for 7 times alternating with 3 swigs of cheap whisky down his throat*
Do you haar me Chairpesrson? How many wallets am I holding in my hand?

Opiate of the People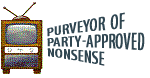 Marshall Pup, I think this is beyond all earthly powers. The Chairperson appears to have received the Light. He has the unearthly glow of the visionary, a glow ordinarily seen only in those who spend too much time french-kissing AC outlets. Soon he may acquire the Obama-stigmata, a phenomenom in which the individual displays signs of the wounds Obama acquired when he valiantly tried single-handedly to prevent the war in Iraq by making speeches in the Illinois State Senate men's room. Do not disturb his reverie, Marshall, for if he can achieve Obama-Nirvana, he may rapture and transisition to Obama heaven, where all the deceased voters of Chicago wait patiently for their chance to rise and vote for the ONE! If not, he'll be back at work Monday morning and wanting to know where all that money and whiskey went.


Komrade Zarkof
The tingle in the Chairperson's leg must truly be strong for him to want Hope™ instead of cash!! Truly, the Messiah's Power is Strong!!

May the Lord Obama bless us with Hope and Change™ ( and all the cash we may want ).


Chairman M. S. Punchenko

Huh? Wha? Oh, cash! *stuffs cash up nose* Thank you, Marshal Pupovich. Ahh... money. I love money. Money, money, money. I especially like Other People's Money (OPM) so that I may give it to Paul for his vote. It is all about the votes, Comrades. Power... Money... All *yawn* yummy. Yummy... yumm... yu... Zzzzz....Zzzzz....Zzzzzz....Zzzz.....


Marshal Pupovich

Thank Lenin! OK everyone, back up and let the Chairperson have a little rest. His blood money levels just got a little low there for a moment, no doubt due to exhaustion from all the Obamessiah pablum being spread about.
Here you go Chariperson, I have your bed made up for you....