Comrade Joe

Comrades, I am delighted to present to you the
official website
of the Democratic People's Republic of Korea, also known as North Korea. There, you can find
really blatant propaganda and shameless lies
the absolute, indisputable truth about the
history
of North Korea. You can even buy
worthless crap
wonderful socialist achievement souvenirs from the
cafepress shop
! They even label their goods "propaganda" for you! But wait, there's more! You can even
join
the Korean Friendship Association! All you need to do is send your information, 50 Euros and
a photocopy of your passport,
and you can participate in activities that are roughly the same as things you did in your Justin Timberlake fan club.
Please do not actually do this. I can make no promises that you will not be stolen from your bed in the middle of the night, or that you will receive a free t-shirt.

Commissar_Elliott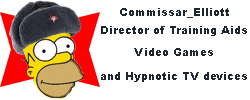 Wasn't this website posted in another article? I'd swear I saw this one before.

With that out of the way now, visiting the site might be a good thing for new converts, a.k.a RINOs. It would show them the true light, and they would then replace the (RINO) in their name with a (D). Also, we could use those member cards for an unlimited pass into Pupovich's Pup Pleasure Palace.The 10th visit gets a free lobo from Jifi-Lobo.

(off)
What klutz in their right mind would join them?! I can think of someone in the left mind, but not the right!


Red Rooster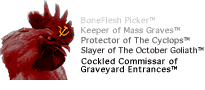 Comrades! We are pleased to say that we have joined the Korean Friendship Association. In fact, due to our inside affiliations with Obama we are now being considered for a General Secretary position within the orginization. This is most excellent comrades, as it will allow us closer friendship ties with Kim Jong Il.

And comrades, do not fret if you perhaps... for one moment... think The One cannot walk on water... for the Son of Kim Jong Il has already laid claim to comdant Our Glorious New USSA!

They tell me, our new DPRK friendship stickers are in the mail, we can't wait!