Ivan the Stakhanovets

Michelle Obama wins Grammy
FLATUS Emeritus, our beloved Moo has become the second (after MTE Hillary) First Lady to earn a Grammy for reading.
After her gracious acceptance (not really, she wasn't there...) she quickly noted that the trophy can be filled with those little cocktail weenies in barbecue sauce...

jackalopelipsky

Such an example FLATUS Emeritus, all comrade's beloved Moo sets for The People's School Children™ by promoting reading.

Your most esteemed Ambassador, 'pelipsky feelthinks that all Texazistan People's School li-berries should have this award winning recording played over all campus intercom systems.

forelock tug,
Jackalopelipsky
#BR 549


Comrade Jenkem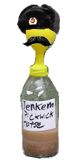 And the "Barrack Obama Award for Outstanding Achievement in the Field of Excellence as Barrack Obama" goes too....