Comrade Brezhnev

Comrades, it is with great indignation I must report one last Yankee plot against the glorious memory of beloved Comrade Fidel.
The Jeep pulling the trailer carrying the ashes of Comrade Fidel to his final resting place was sabotaged no doubt by the CIA and had to be rescued by heroic revolutionaries acting in the interests of the people.
Is there no limit to the depths the Yankee imperialists will go to discredit the glorious revolution?
FoxNews.com
wrote
:
[indentr]
The breakdown of the jeep in the midst of adoring crowds chanting "Long live Fidel!" was symbolic of the dual nature of Castro's Cuba. While his legacy inspires fierce adulation by many of the nation's citizens, others continue to grumble about Cuba's autocratic government, inefficient bureaucracy and stagnant economy.
[/indentr]
(Prog Off)
Another case of "Life imitates The People's Cube!" They should have used a 1959 Caddy instead. At least it would have made the trip uneventfully.

RedDiaperette

These must have been the same nefarious hooligans who hacked all the midwestern voting machines into seeming to vote for Trump.


Genosse Dummkopf

Comrade Brezhnev
(Prog Off) ... They should have used a 1959 Caddy instead ...
Idiots, indeed. Why didn't they use a solid, eco-friendly gadget like Chief Designer's
ZIL-Prius
?

Captain Craptek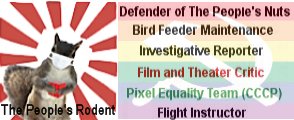 Why wasn't Comrade Ivan the S. available? "
Passed out under the distillery truck
", you say? Never!